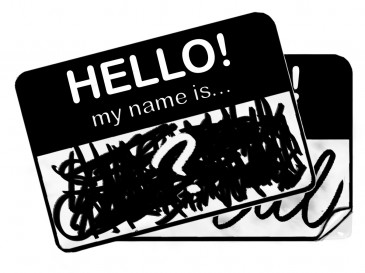 The music world is full of pseudonyms. Writers attribute bylines to pen names, musicians adopt other aliases or stage names, and even music fans themselves take on a self-assigned username when commenting online. It can seem like a muddled mess of monikers — and it can add a level of frustration when you're trying to keep authenticity and still honour peoples' wishes to remain anonymous — but in my time at Discorder, I've come to better understand the motivations behind this concealment.
My predecessor's bottom line was this: if Discorder could find a musician's full name online connected to their band/through other sources, then we included it in the article. In this sense, we're not revealing anything that isn't already widely accessible. When I came into the position I was eager to uphold the same standards and thoroughness — even clashing with one or two groups about publishing their real names after finding them in other online articles — but the more I've adjusted to the community, the more I digress. It's not about creating mystique or about being a diva or any shit like that; it's increasingly a response to how the Internet is affecting people's lives.
Few artists can support themselves entirely on music and those who can probably aren't receiving coverage in an independent, hyper-local magazine like Discorder. These musicians all have another job —or jobs — and sometimes those fields can't peacefully coexist. No one should have to decide between their career and their music and so you take on a name that will expunge you of (hopefully) most of the risk.
The recent digitization effort of Discorder's entire library is an interesting mirror of this. In the '80s, when you were reviewing albums for a campus magazine, you probably weren't thinking that decades down the line that review would be available online for anyone with a Wi-Fi connection to browse. (They wouldn't have been thinking about the Internet in the first place, but you get the idea.) Every writer has to start somewhere and the content you created while you were still mastering a semicolon probably isn't your best. Thanks to this whole Internet business, your progression and early blunders have a web address to them.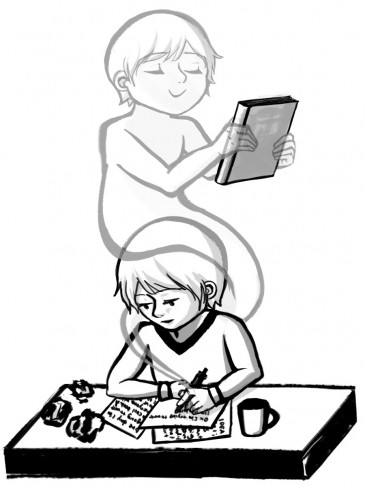 A regular contributor for Discorder recently started writing under a fake name. Do I know why he made the switch? No. I contemplated taking a stand and saying, "No, anything you write has to have your real name attached to it," but then you're valuing full disclosure over creativity and a message. There are liability issues that come up when you don't have a real person attached to articles being published but the chances of that nipping a publication like Discorder are minimal. We're not producing slander and exposes; we're profiling musicians and writing about bands.
Have I ever donned a pseudonym? Not for Discorder, but I've embraced anonymity at other times during my relatively short writing career. I've had to self-censor myself occassionally, leaving out details or foregoing saying more than I want to on a topic because I ask myself, "Will this ever come back to bite me?" It's unfortunate to think that content has a limitation on it because of potential future repercussions that might not even manifest but the reality is I have to be careful about those kinds of things. My goal in life has always been to work with kids and that means staying aware of what comes up when you Google my name.
I think as long as anonymity is being used to protect people instead of giving an excuse to be a dick — I think we can all agree people feel a lot stronger about their opinions when they're not accountable to them directly — then the secrecy works. Our rules for using real names have softened and I'd argue that the content has stayed the same. Musicians, like everyone, have a right to privacy if that means going by something other than what's on your birth certificate, then all the power to you.