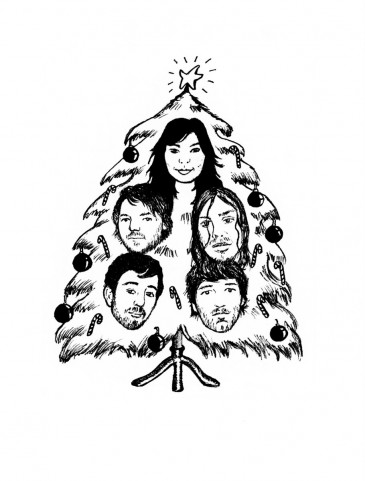 Mariko Adams, Contributor
Every Christmas, us grandkids have to belt out a carol together before we're given our presents. Apart from being coerced into wearing some awful combination of red and green, this is my least favourite part of the holidays. That's why I would like Ozzy Osborne and Jessica Simpson to perform their duet of "Walking in a Winter Wonderland" at my family gathering. Not only would I be spared from having to hear my family's lacking vocal talents, but, if it were still the early 2000s, Ozzy and Jessica could film holiday specials for their reality TV shows too.
Willa Bao, Contributor
Brit and Germaine — I mean, Bret and Jemaine of Flight of the Conchords are the perfect guys to hang out with during the holidays. Their deadpan humour could put a musical, comedic twist on the otherwise pretty sucky situation of my birthday always being overshadowed by Christmas. Lyrics could be along the lines of: "No one has time for you when they've got Jesus to pay attention to," except a thousand times better written (I'm no songwriter).
Jacey Gibb, Editor-in-chief
I'm snowed in at my parents' house in rural Alberta. It's Christmas Eve and the rest of my family were away at church when the storm hit—but I'm not worried. There's a knock at the front door and it's everyone's favourite party guy, Andrew W.K., with a 40 of Biscotti Baileys and a thermos of egg nog. We embark on a Cat in the Hat styled adventure; jumping on the bed, lighting the Christmas tree on fire, slamming shots of spiced rum. Then, just as the clock's about to strike midnight, he hands me a gift and says "Merry Christmas, Jacey." It's Mortal Kombat Trilogy for Nintendo 64. When I look up to thank him, he's gone, as if by magic. But the tree's still on fire.
Coleman Ingram, Contributor
I think it would be pretty badass to chill (ha!) with Bjork in Iceland for the holidays. We could listen to her sing Icelandic carols, eat smoked lamb, drink Brennivín and Gæðingur Stout, maybe jam around a campfire, then go have a snowball fight in Viti (a volcanic hot spring, the name of which translates to hell). Sounds jolly to me!
Keefer Pelech, Contributor
The holiday season can be a lonely time as the nights get longer and the air grows colder. There's no better way to snap this Yuletide funk than through music, company, and a few open bottles of wine. For me, there would be no greater Christmas gift than to have Hey Rosetta over to my house for a home-show. With a fireplace crackling and their intimate songs to set the mood, the Newfoundlanders would be perfect for a night of revelry. Impromptu jam sessions and drunken singalongs would abound. Alas, I have yet to receive a RSVP from the St. John's locals. At least I'll have 2012's A Cup of Kindness Yet to fill me with spirit and company over the break.
Elijah Teed, Contributor
Ah, the holidays. A joyous time of year, filled with gift-giving, warm wishes, fatty foods, and some good ol' fashioned Yuletide. However, nothing says Christmas like the garage-rocking genius of Japandroids. Just picture it: chestnuts roasting on an open fire as you headbang to the "Whoa!"s and "Yeah!"s of David Prowse and Brian King; decking the halls with boughs of holly while the sweat-drenched duo shred on some three-chord jams; a sleigh ride in the park made better by the three of you collectively belting out "Young Hearts Spark Fire." Moshing around the Christmas tree has never felt so good.
Sam Tudor, Contributor
I'd share some eggnog with Leon Redbone anytime — especially at Christmas. It can't get much better than huge snowdrifts outside while Leon and I sit inside, cross-legged in front of the fire, him getting fancy on the bar chords while I power through a mean mouth trumpet solo, hot chocolate in one hand and some sort of hard liquor in the other. We'd be real cool cats, Leon and me. Carolers would knock at the door hoping to do another rendition of "Silent Night" but there's no time for those folk when you've got real tunes to play.
Max Wainwright, Contributor
I always spend Christmas with my family in town and we've developed our own traditions over the years (the aggressively competitive table hockey is a mainstay). Jeff Tweedy of Wilco would probably fit right in with our eclectic holiday season. A family man himself, Tweedy is ever classy but knows a thing or two about dry humour. I could see a Tweedy Christmas as being all brandies and baking — and that's just fine by me. Also, those vivid suits of his would sit nicely next to my aunt's infamous Christmas vest.