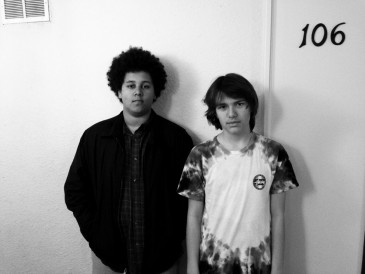 If you're a psychedelic person looking for your place in the world, look no further than Chthonic Boom! Aaron Giesbrecht and Gray Reichl play tunes across the whole spectrum of psychedelic music, from noisy garage stuff to ambient techno classics. It's also worth mentioning they currently hold the "Youngest DJs on the air" status between the two of them, if only to accentuate the breadth of their musical knowledge. When asked how their age affects the show, Giesbrecht and Reichl told me that a shared love of music at CiTR can transcend age — certainly a more profound answer than I would've given when I was 13-years-old.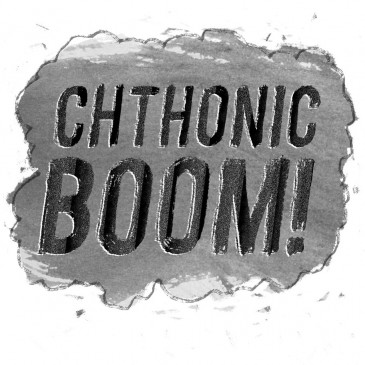 How did Chthonic Boom! first come to be?
Reichl: My Dad is a big fan of CiTR—he's been listening to it for maybe 20 years. He brought me here last year and I got to be on the air with Ryan Rosell from Butta On The Bread. He was really friendly and ever since then I've wanted to do a show. Aaron and I were always talking about doing a radio show, so we did the [CiTR] training sessions and sat in on Nardwuar's show a few times. Nardwuar has been really supportive of us throughout this entire process. We submitted a demo, which got accepted, and that's how the show started.
What's it like sharing a show between the two of you?
Giesbrecht: Usually when we're deciding what to play we'll both suggest stuff and I don't really think there's ever been a time when one of us has wanted to play something and the other hasn't. We usually come to a consensus pretty easily.
Reichl: And it's nice when there's two of us. It's less boring. We can converse when we are playing music and we pass the time easily.
If you had to host a brand new show with a completely new angle, what genre would you be playing?
Giesbrecht: Hip hop for sure. There's been so many good hip hop releases this year.
Reichl: Yeah. I don't really listen to hip hop, although there's this stuff that's just on the border of being hip hop yet it's still not really. It'd be cool to have a show about that.
What kind of music did you grow up listening to and how does it influence the show?
Giesbrecht: I'm not sure how it influences the show, but the first thing I can remember listening to when I was really little was Stan Rogers in the car with my mom.
Reichl: I went through a phase where I only listened to classic rock when I was like, six. And then I went through another phase of listening to only pop-rap. The first band I really got into though was Gorillaz, and then later Massive Attack. My Dad was introducing me to bands like Boards of Canada, and that got me into a lot more underground music. We play a lot of psychedelic-rock on the show, and the first psychedelic band I really liked was Animal Collective. I don't listen to them as much as I used to, but they still have a big influence on what I listen to now.
How are you finding new music to listen to these days?
Reichl: I used to have these narrow indie tastes, but one thing that helps expand those is going to a bunch of concerts. The opening acts help me listen to new music. I saw this band that opened for My Bloody Valentine called Lumerians and they played some really cool space-rock. I like going to a concert and getting more than you expected.
If there's one local Vancouver band that deserves more attention, who is it?
Giesbrecht: We recently went to a seven-inch release party for the band Village. They're definitely one of my favorite local bands. Or maybe Shearing Pinx.
Reichl: Yeah, Village is really good. They've got this dream-pop sound and "Nowhere" is one of my favourite songs of all the music I've heard in the last while. And Shearing Pinx. One of the guys from Audio Pop Records is in that band. They've been doing music for a long time and it's this really noisy punk and its really good.
What can you see yourselves doing a few years from now?
Reichl: Well, my mom is an educational psychology professor here, so if I get in here I get free tuition. I don't know what I'd major in but I think I'd still want to be doing the show. It's really fun to just sit in there even if no one is listening, because you're just listening to music and having a good time.
Giesbrecht: I'm in a program at school that is pre-International Baccalaureate, so I'd like to go into that and from there probably do some computer science or chemistry here at UBC. I'd still want to be doing the show for sure.
______________________
Tune in to Chthonic Boom! every Sunday from 5:00 to 6:00 p.m.