"You can spend five bucks and, instead of buying a coffee one day, have a piece of art that somebody made with some intention," says Pat Valade, speaking to the bleeding heart of his new zine project, Pity City Publishing.
In an age when newspapers are migrating content to web and / or cutting print altogether, there is a renewed interest in independent publishing, due in large part to the co-opting of zines by artists. As Pat points out, "anyone can make a zine. You just need paper and a stapler." Made on the cheap, zines can be one of the most affordable ways of disseminating art.
And that's Pity City's intention — to provide artists with the means of getting their work seen. A photographer himself, Pat understands the obstacles: "I come from a contemporary art background, having had a fine art education at university where everything is focused on the gallery and the fine finished product. Everything is big. I'm just kind of sick of that because it's pretty inaccessible, especially to emerging artists in Vancouver, to do that kind of art, on that kind of scale."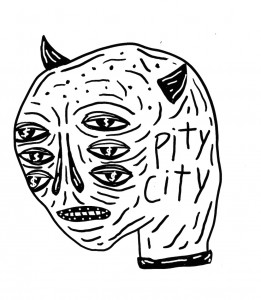 Two weeks into Pity City, and Pat already has a list of artists he will be collaborating with over the next several months. Some names include Aya Garcia, Scotty Alva, Paul Rarick, Teresa Holly, and Brayden Naka. Pat also commissioned local illustrator Marena Skinner to design the Pity City logo.
When asked about his role, Pat prefers the term facilitator to curator. Every zine is unique in that Pat's involvement in the publishing process is left up to the artist. Sometimes Pat will help with layout and composition, other times he's just the wheels. In following with a decidedly relaxed approach to publishing, there are no deadlines at Pity City. Except, perhaps, for his own work.
Pity City is a platform for Pat's personal projects as well. Zines and film photography share a certain fallibility that attracts him: "I just like things that are not perfect … I like the opportunity for errors, it's more interesting."
That being said, Pat swears he's not a film snob, especially not with the artists publishing through Pity City. "I think you should use what you have, whether it's a phone, or a digital camera, or a homemade camera, or the best film camera ever — I don't fucking care," says Pat. "It took me a couple years to mature out of the 'everyone should use film' thing."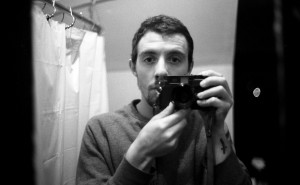 Although Pity City is printing simply — anywhere that offers photocopying services — Pat maintains that each book is made "with integrity." At the same time, it is just toner on paper. "I kind of like the disposability of it," explains Pat. "There is a finite time you're going to have [a zine] before it doesn't look the same … You can spill a coffee on it, and it's not a big deal."
While Pity City relies on photocopying businesses for the moment, there are plans to create an official headquarters in March. It will include a main studio, darkroom, and exhibition / venue space for the occasional gathering. It is through establishing a studio that Pity City will truly become a collective, encouraging community in a city that has recently lost so many of its favourite hang-outs.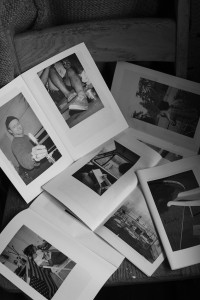 Unsurprisingly, the name, Pity City is "a slight joke towards some people's attitudes about art and culture in this city," explains Pat. "There is a stigma in Vancouver that you can't really do anything. And it's true a lot of the time because everything is really expensive."
With so many plans for Pity City, on top of a full-time job and his own art practice, it's hard to imagine how Pat has time for it all. When asked, he responds, "I think sleeping is a waste of time, and I get heavy anxiety if I'm not doing things. [Pity City] is a good exercise for my mental stability. I don't like idle time … and as a 25-year-old bachelor, I have more free time than most."
Let's hope he stays single, for Pity's sake.  
x
Follow Pity City on Instagram @pitycitypublishing, and visit pitycitypublishing.bigcartel.com for current inventory.