Down a hallway covered in band stickers, and just beyond the archaic combination lock on an office in the old CiTR station are boxes of Discorder Magazines dating back exactly 33 years. From this chilly office (the heat doesn't work anymore), I write this Editor's Note.
Nostalgia is substantial in this old station. It is slapped onto the walls, worn raw into the floor, and stained on the lounge furniture. It lingers as the musty smell of old paper surrounding the Discorders like incense.
But this nostalgia is not my own; I never knew this station. I became EIC the same month CiTR settled into its new location in The Nest. That's the magic of CiTR and Discorder, though — once a member and supporter, you become a soft crease in a larger fold of friends, lovers and losers who have shared and redefined independent media in Vancouver over the last 70+ years. I don't need to have known this old station to feel a connection to it.
For all the cynics reading the similarities between this Editor's Note and my previous one, you're absolutely correct. And perhaps I should have saved that note for this issue. February is busy for CiTR and Discorder, and it feels right to place this introduction in the context of the station's longevity.
This month CiTR and Discorder are hosting a slew of events to bring you into our extended family: February 5 is the Shindig Finals at Pat's Pub, also marking Ben Lai's last night hosting Shindig after a solid 15 years of bad jokes-for-beer and outrageously drawn out winner's announcements; Discorder TV, a YouTube mini-series produced by Sam Tudor will be debuting at the Lido February 10; CiTR's annual Fundrive fundraiser launches on February 25, culminating in a finale party at the Hindenburg March 4; and CiTR and Mint Records are releasing Pop Alliance Compilation Vol. 4 on vinyl February 26 with all sale proceeds supporting the station.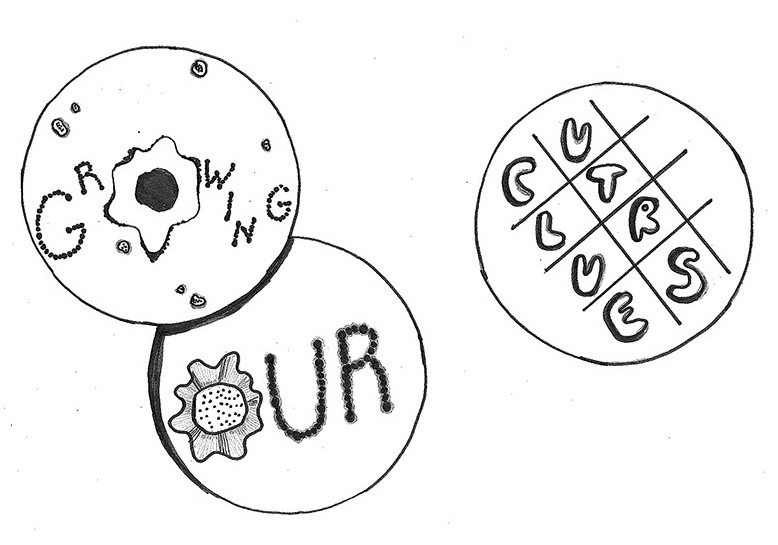 This year's Fundrive theme is "Grow Our Cultures," a lovingly visceral representation of the way we intend to spend money donated between February 25-March 3. Funds raised will support the continued development of broadcasting and print publication skills amongst our staff, volunteers and interns. For Discorder, this means providing contributors the training and opportunities to produce an even better, and more relevant magazine. We are a non-profit publication, and donations can help us grow our base writers, editors, illustrators and photographers. We are already the outspoken voice of Vancouver's independent, underground and emerging music and art culture. By donating to Fundrive this season you will be making our voice even louder. Your donation makes a difference to us.
If you're wanting something tangible for your donation, we got you covered. In addition to station swag and giveaways on individual CiTR programs, some of our hottest djs and Mint Records have chosen the local artists featured on Pop Alliance Vol. 4, including Discorder favourites Mourning Coup, Cult Babies, Late Spring, and Stefana Fratila. A few of the artists on the compilation will be performing at the Fundrive finale / LP release at the Hindenburg March 4. LPs (with digital download codes) are available for pre-sale on mintrecs.com, and will be sold during and after Fundrive for $15. There are only 500 pressings, so each one is collectable. (In case you missed the first few volumes of Pop Alliance, we are selling those, too.)
Bringing this note full circle, I want to share the contents of this month's magazine. 33 years after the first issue of Discorder featured DOA, we are proud to interview DOA frontman Joe Keithley again, tracing his career from punk to punk politician. This issue also features Michael Red, Dumb, Milk, Maggie Boyd, Gallery Gachet, and some dish on illegal venues. Thanks to our contributors, advertisers and donors this month, and thanks to you for reading to the end.
My fingers are so stiff.
A+,
BB