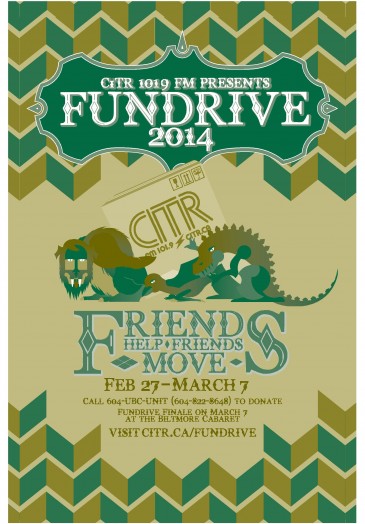 CiTR 101.9 FM and Discorder Magazine are actually a two-headed beast, splashing and spraying you with local music, culture, and journalism in radio and print. The monster types away on the computer with talons or claws, making sure you have all print and radio content online. This is also the time of year when the monster asks for your support, collecting donations to support the infrastructure needs of volunteers that create the content that you love.

This year's Fundrive runs from February 27 to March 7, and we're asking our friends, family, listeners, and readers to support the work we do and make a donation. During Fundrive, programmers extort listeners to pledge while volunteers wait poised at the phones.
On March 7, our Fundrive Finale will celebrate the end of the drive with a party at the Biltmore Cabaret featuring the talent of local musicians. We're hoping you'll consider supporting our quality, alternative programming, and the costs of moving into our new home in the new Student Union Building. Visit www.mynewsub.com to see the building plans!
Since we're asking you for your support, here's a mini history of CiTR and Discorder, your double-headed, locally focused, independent media outlet. We're always changing and growing, figuring out better ways to serve our audience and volunteers and the local music community, pushing to experiment, stretch minds and avoid the boring and predictable at all costs. Here are some highlights, initiatives and wins of the past few years:
2010
– CiTR's News 101 wins a Community Radio Award for alternative coverage of the Olympic Games.
– CiTR teams up with Mint Records to release the CiTR Pop Alliance Compilation Volume II on vinyl.
– CiTR raises funds to build a digital library, and begins the neverending task of converting its massive library to digital.
2011
– CiTR receives a grant to conduct 19 live on-location broadcasts at the 2011 North American Outgames.
– CiTR hires a Volunteer Coordinator to improve the lives of CiTR volunteers and volunteer numbers skyrocket!
– CiTR launches DJing 101.9, teaching over 130 young DJs how to mix and beatmatch.
– Adam Janusz, host of The Arts Report, wins a Community Radio Award for supporting local artists and musicians.
2012
– CiTR builds a new log sheet that connects with our digital library, new broadcast software, and website.
– CiTR receives another grant to produce videos of local musicians and host in-studio performances!
– The Extraenvironmentalist, produced by Justin Ritchie and Seth Moser Katz, wins a Community Radio Award for Syndicated Show or Podcast.
2013
– CiTR receives another grant to offer spoken word training!
– CiTR teams up with Music Waste to organize Victory Square Block Party, adding another signature event to our roster!
– CiTR releases another Pop Alliance Comp with Mint Records.
– CiTR raises funds to purchase new broadcast boards for all three studios!
– CJSF and CiTR win a Community Radio Award for a multi-location live broadcast on Record Store Day.
– CiTR prepares to digitize our back catalogue of Discorders, and make them available to the public online. Imagine having access to this record of Vancouver's local music scene!
2014
– Discorder launches a new format, with 72 pages (almost double) and an art mag/zine feel, to improve layout, better showcase art and photography, and experimentation with pantone colours. The smaller mags will fit in your purse (or manpurse) and stack nicely on countertops in bars, brunch spots, and coffee shops. You maybe reading it right now!
– CiTR anticipates moving into the new SUB, with 200 extra square feet, spacious studios and offices, and a folding wall that will open into the main concourse to create a natural performance space with track lighting. Fundrive 2014 will raise money for costs associated with the move, including engineering costs to rewire all three studios, design costs, and new equipment.