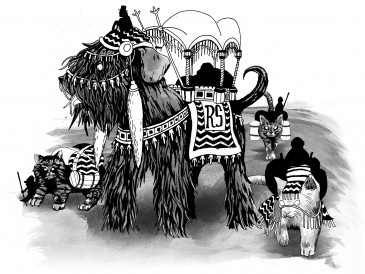 Most bands are reluctant to slap a generic label on their sound, opting instead for a genre-defying title like "experimental" or "progressive." But Redrick Sultan's lead singer Spencer Hargreaves is even cautious to file his band's music under the vaguest of categories. "They're weird labels to me," he tells Discorder from the comfort of Cafe Deux Soleils, where he's seated with bassist Noah Jordan. "If I'm looking online for bands and it says experimental, it'll often mean something like awful static sounds or just noises. Once that's been done, it's not really an experiment anymore. And progressive usually means, like, an overblown fairytale story with long boring instrumental sections. Nowadays, progressive rock means copying those ['70s bands] sound. It's not progressive at all; it's regressive."

Formed in Port Coquitlam eight years ago, Redrick Sultan have endured countless personnel shakeups and more name changes than a conman. Now, with a lineup that also includes Jarrad Lajeunesse smashing drum skins and Mike Spindloe on saxophone, the transition from high school prog-metal purists to adventurous sonic sailors seems complete.
So what happens when you have a band eager to defy any pre-existing genre tag? You get an album like Trolling for Answers, Redrick Sultan's second LP and follow-up to 2010's self-titled debut. "When we first started recording it," Hargreaves explains, "I said 'Let's do an album where we'll just record anything we can think of. We won't think about how we'll play it live at all, so that won't be an issue. We'll just record anything.' So we did just that." What resulted from said mindset is a chaotic cauldron of an album, with everything from space synths to sing-alongs stirred in, making for a more ambitious and broader album than their first.
The band recruited 14 different musicians to collaborate with them on Trolling for Answers, including local rapper Panax, whom the members met in high school. Panax's presence undoubtedly changes the feel of several of Redrick Sultan's songs, spicing up longtime live number "Giraffe Food" with rhymed verses that would have otherwise been left as instrumental passages. The rapping works as a wonderful change of pace from Hargreave's otherwise dominating vocals.
To say there's diversity on the album would be like saying the sun is kind of hot. From dreamy instrumentals on "The Minckler" and "Clouds" to the seven-years-in-the-making gypsy jingle "Three Rabbis Walk into a Bar," Trolling for Answers allows for the senses to depart into a realm of disorientating confusion. But Redrick's chaos has a formula to it: the songs follow a chronological order. Jordan justifies the album's hectic layout by describing it as "more of a movie that's going from the beginning to the end. It makes more sense as a story or a complete work, as opposed to just a series of songs." To which Hargreaves adds: "It just kind of developed that way."
The band's maturing sound can also be attributed to the recent changes within their ranks. Spindloe is new to the lineup, having just joined last October after original sax player Angus McKee, who had been with the band since high school, quit. It's no wonder the album took almost 15 months to record, with the endless re-dubbing driving the already inherently insane group even more crazy.
"We were going to call the album For Fuck's Sake because it seemed to sum up everything," Hargreaves says. "We were just about the finish the album and then, for fuck's sake, [our saxophone player] leaves the band. But we realized the music wasn't angry enough to justify that title."
But that doesn't mean Redrick Sultan are hanging up their crazy pants just yet. "King Song" and "Trolling for Answers" have both recently spawned music videos oozing with the band's signature zaniness, with the former featuring shots of the band dressed as jesters and the latter focusing on a troll struggling with the frustrating art of fishing. A video for "Morningwood," an organ-heavy song rich with sexual innuendo delivered courtesy of Panax, was also recently filmed. An animated video for "Dinosaurs" is also on the horizon.
So what's next for these sultans of swank? Well, the year is off to a promising start as the group was just named one of VanMusic's Bands to watch in 2012. And with Trolling for Answers' recent release party at The Railway Club finally out of the way, the group are looking to take off and tour throughout the U.S. "We'd like to travel and gather inspiration for our next project," Hargreaves predicts. "Hopefully we'll get to share our music with as many people along the way."