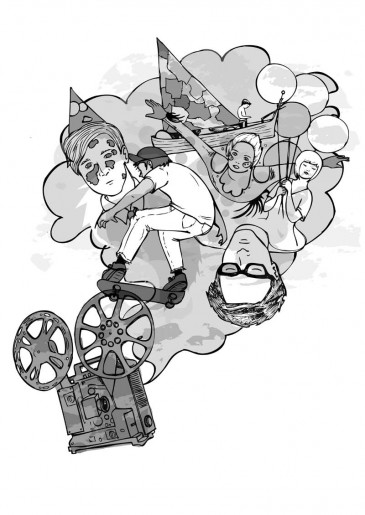 For generations raised on the big, shiny videos of MTV and MuchMusic— think Puff Daddy dancing in a tunnel or a topless Slash shredding in the rain—the music videos produced by local motion picture collective Salazar are a welcome departure from the norm. The collective, which consists of Nathan Drillot, Jeff Petry, Jesse Savath, Liam Mitchell and Bienvenido Cruz, create films that are completely unlike the glossy infomercials slouching down Much's Top 30 Countdown.

As Nathan Drillot explained, "We're not interested in creating the usual music video, something that's basically an advertisement that looks expensive." Instead, the collective uses striking locations and a strong sense of narrative to craft videos that more closely resemble short films than music videos. "In essence," Jeff Petry remarked. "We're using bands to score our films."
The collective is also unique in how they work together. With each project, each member takes on a different role, complementing each other rather than competing. "Film is usually a dictatorship," observed Petry,"whereas we use more of a Communist approach."
Prior to forming, all the members had been working in the film industry in various capacities. After regularly running into each other on sets, they eventually decided to stop competing and start working together. The formed as a collective in 2008, taking their name from a mutual friend: Ehren Salazar of Little Mountain Studios. "At the time, Ehren was a P.A. on one of our sets and we thought'd be funny to name the company after a P.A.," described Savath. "That way clients would think the boss was getting us sandwiches."
Since forming, the group has created films for acts like Brasstronaut, Woodhands, Circlesquare, Fan Death, Aaron Read and Dandi Wind. Thanks to the unique quality of their films and with no small help from the miracles of the interweb, the collective's been featured in such disparate places as Pitchfork, Nylon, Fader, Stereogum, Hipsterrunoff.com and the BBC as well as a music festival in the Netherlands and an upcoming film festival in Russia.
The video that garnered them the most attention and that continues to come up in all of their press was their first. Local act Fan Death approached them to make their debut video with essentially no budget. The guys took what little budget there was and decided, fuck it, let's fly to Mexico. Once there, they used the remaining $100 and a willingness to hike into the jungle for hours with 90 pounds worth of equipment for a single shot to produce a video that got noticed internationally.
This emphasis on unusual locations and intense physicality runs through all of their films. "Often we just find the right location and see what happens," described Petry. For their latest music video, for the Brasstronaut track "Old World Lies," they loaded into three boats—a fishing boat, a zodiac with a hole in it and a picture boat loaded down with chains and antiques— and took off into the open ocean. For three days, they battled huge swells, several cases of seasickness and the lead actor's fear of open water to create another remarkable video.
Currently, the group is branching into different types of films, including a particularly bitching skate video, Wizard Smoke, and promotional films for local clothing label Lifetime Collective. However, they're not done with the form that first brought them together and got them noticed. "There are great bands in Vancouver and we're lucky enough to know and work with some of them," stated Drillott. "It's just grown from there."
in their own words…
1. Wizard Smoke – Creative Skate Video
Liam Mitchell: "When you're shooting an HD, slowmo, artsy-fartsy music video, you gotta pick the music carefully."
2. Brasstronaut – Old World Lies
Jeff Petry: "Three days, two cases of debilitating sea sickness and one overcoming of a deep water phobia later…"
3. Fan Death – Veronica's Veil
Nathan Drillot: "Let's fucking go to Mexico."
You can find their films at salazarfilm.com