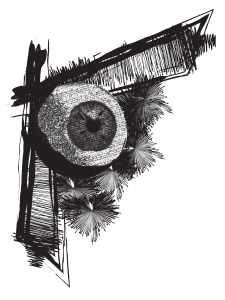 Rattling my way over False Creek on the 007 bus, Ex-Softess's chiming guitars and sprawling reverberations manifest in the twinkle of sunlight over the water, and the depths therein. Inherent within the band's newest release, Hollow Ritual, is the muddied chaos of a lopsided city. The band delves into free-jazz noise excursions harkening back to L.A. Blues by The Stooges (indeed, Don, Guitarist and Vocalist shared a moment of mutual revelation in discussing the first time we heard the track). Unlike L.A. Blues, however the songs on Hollow Ritual quickly snap back into order, chaos aligning at once and driving the songs forward. 
Sometimes, what realigns the band is a specific audio cue, a transition line on April's bass or fill from Bill's drums, other times the cue is visual or spatial, one member directing the other two to return to form. This synchronicity requires both discipline and chemistry, with Ex-Softess always openly experimenting off of each-other while simultaneously working towards the progression and build of a song.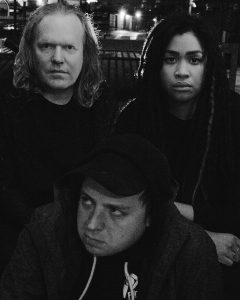 Indeed, the band forms such a solid unit, with a distinct form of experimentation that it's hard to believe it was formed out of Don and Bill's prior project, Softess.  April recounts how she came to join the band, telling me that she had been to numerous Softess shows, and was surprised when Bill and Don reached out to her, not knowing that they had heard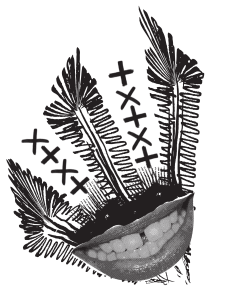 her work as a bassist in hardcore bands such as WANT and Career Opportunities. Once onboard, the three realized that they had a radically different approach and sound than Softess had once had, and settled on renaming the band to Ex-Softess, signalling a new stage in the group's sonic evolution. Ex-Softess is, in many ways, a quintessential Vancouver band, each member having found each-other through the city's vast network of musicians and artists, and coming together to create a sound both claustrophobic and expansive.