Boredom and frustration: two emotions both Lil Wayne and the reader experience during the course of Gone 'Till November. Written during his 2010 prison sentence on the infamous Rikers Island (New York City's main prison complex), this Lil Wayne memoir aims to detail the pains of incarceration. Chapters like "Still Trying to Believe That It's Real" and "More Frustration" act as a window into the world of an imprisoned Weezy.    
Given Riker's notoriety as a nasty and abusive place, one would expect a base level of reflection or anger from Lil Wayne. Before reading this memoir, I held in my mind a certain image: Lil Wayne burrowing deep into his soul as he fills with rage over the faulty drug and gun laws that imprisoned him. Hell, I was even up for some loveable jailhouse drama à la Orange is the New Black.
But unfortunately, fame destroys any possibility of reflection, friendship or even rage. Incarcerated at the peak of his career, Lil Wayne's time in prison is dictated by the brightness of his star; a fact driven home by a host of high profile visitors (Diddy, Kanye and Nikki Minaj to name a few). Though Captain attests that Lil Wayne "definitely won't be getting the celebrity treatment" (4), he is handled with a delicacy and respect afforded to none of the other inmates. On Weezy's first day, for instance, two female guards are suspended for trying to visit him. Ever the optimist, Wayne remarks, "Maybe there will be some groupie in this bitch, after all" (6). Similarly, the other inmates are eager to please. They ply Wayne with gifts and praise. In a desperate attempt to gain his respect, some inmates even offer up fake back-stories of gangster glory. Even Riker's top brass are swayed by Wayne's fame and wealth. When ants invade his cell, Wayne complains to the Captain and is given a new one (75). And in moments of conflict, when Wayne finds himself in a yelling argument on the yard, the offending party is simply transferred to another prison. Weezy is never made to feel uncomfortable or vulnerable. Fame can penetrate any wall.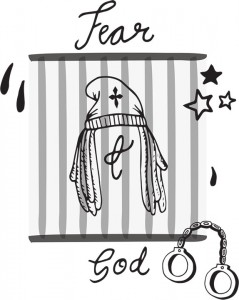 Insulated from true torment, Lil Wayne is left only with boredom. Days begin to lengthen. Whole pages are filled with descriptions of movies. "We watched Shutter Island," Wayne comments, "It was cool!" (75). His only qualms arise when someone is watching Tyler Perry or if it's raining outside and he is stuck indoors. "I can't even see the laziest motherfucka on the planet liking jail" (81), Wayne bemoans. He is far from content, but still okay. The only time he seems beaten and dejected is in a seven-word chapter entitled "Bad Day," in which he states on page 83: "No writing, prayer, bible, sleep. Another one." For a mere moment, things seem to have taken an interesting turn. What has devastated Weezy? Is it another inmate? Maybe a fight? Or perhaps a degrading trip to the prison psychologist? But no, the source of his misery comes from outside the prison walls. As Wayne writes in the following chapter, "I'm used to arguing with my girl on a daily basis… but finding out that she fucked Drake was the absolute worst" (85).
Wayne, however, is still desperate to take a lesson away from his months in monotonous purgatory. This urge to reflect probably arises from feelings of guilt. How can he possibly leave his adoring fans feeling so unfulfilled after reading his memoir? So, just as Aleksandr Solzhenitsyn in his novel A Day in the Life of Ivan Denisovich attempts to describe the perseverance of the human soul in a Stalinist Gulag, Lil Wayne looks towards the inspiring: "I've always thought I needed things like being high with my niggas, a buggati [sic], a dope-ass crib or some big booty bitches to be creative. But once that was taken away from me, my creativity was put to the ultimate test […] and I passed like a mothafucka" (157).