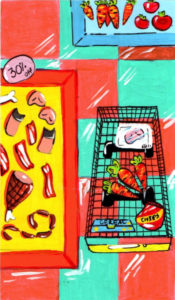 A hog isn't squealing,
She's reading a poem
To the evening shift carrying card for Local 031
Abattoir toilers.
A wet dog mullet,
A side of bacon,
Back aching,
Tail hair tip black spiked Clay Aiken.
Lower bar of the pen cage fence
With the circumference of a community theatre
curtain rod pinned to her lumbar.
It's curtains
Intrathecal (IT) administration.
No proven minimally invasive method has been
established to deliver agents into the pig IT space.
The pigs were followed up for up to 19 weeks post –
operatively and underwent dissection at the time of
sacrifice.