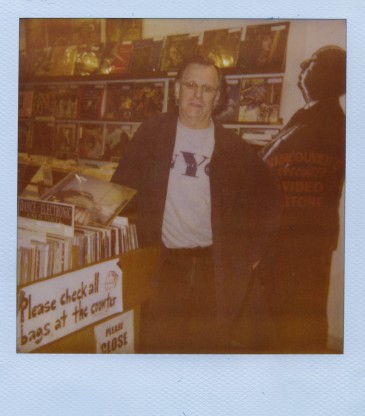 The once neighbours are together again and it feels so right. Videomatica, after a summer under threat of closing up shop, is reopening their sales division in the back section of Zulu Records today (November 2).
The announcement came just last week after the two stores negotiated a deal to have Videomatica run their business within the vinyl section of Zulu Records. After opening their original stores side-by-side in the early '80s, the partnership seemed like a natural fit.
"In a lot of ways we were same but just different media—we're the music, they're the movies," said Zulu founder Grant McDonagh. The independent stores bring in collectors and both owners are hopeful that the customers from one will go into the other for their esoteric needs. "We don't necessarily have all the same customers but I think they feed off one another. Their friends will recommend it to our friends," said Videomatica owner Graham Peat.
The two companies are also similarly good at adjusting to changing demands. Just as Videomatica are adapting to the current climate, Zulu records went from being a vinyl shop to mostly CDs, to the mix they have today.
"We were almost a cassette-only store for a little while," McDonagh recalled.
Now half the store's collection is back to vinyl and they've made room for Videomatica without having to eliminate any of their collection.
Videomatica announced their closing in May when rental sales dwindled, while property rent stayed high. Though demand for video purchases never went away, it wasn't obvious how they could stay open with the overhead costs. The fate of the rental collection has not officially been settled, but it is rumoured that the collection will be divided between SFU and UBC.
At least you can definitely visit your favourite movie nerds at Zulu now.