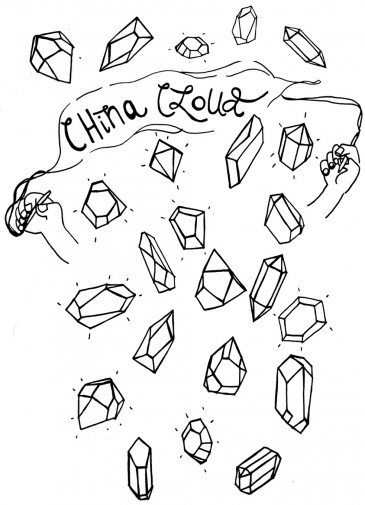 In Chinatown's chipped-paint patchwork, it's easy to miss. Between colourful shops, non-commercial doors on Main Street disguise themselves as unnoticed outlines. Locked tight, one entrance is particularly lacklustre. Only one marking catches the observant eye. It is the image of a cartoon cloud. One might even call it, a China cloud.
In pseudo C.S. Lewis style, this mysterious door unfolds inwardly. Just inside and up a ribbon of stairs, roughly twenty artists coexist peacefully. Their creative projects include Mood Hut, Pump Trolley, the Hero Show, Big in Japan Recordings, and Friends with Wood. Managed by Colin Cowen, the China Cloud is much more than an average studio space. It thrives as a multi-purpose locale, the front room functioning as an occasional event venue and the back garage as a woodworking shop. The Cloud's uniqueness is also derived from its inventive climate. Filled with a variety of individuals working in close-quarters, the spirit of creativity is contagious.

As Big in Japan Recordings pioneer and chief Walter Green says, "A lot gets done in here. Everybody's kind of on their own page doing their own thing in their room. They're making very good use of creative space."
Named in 2009, Green explains that the China Cloud began as a core group of about five guys (who will remain unnamed) who turned the loft into the art space it is today. His friendship with the group landed him a room in the building, which he turned into a recording studio. Since then, his regular recording work has developed into projects like the live concert series inspired by Live at the Old Quarter, by Townes Van Zandt. With the front room available for shows, and Big in Japan Recording studio right down the hall, Green has recorded the Live at the China Cloud series with considerable ease. Without the Cloud's distinctive multi-purpose structure, this series might be impossible.
Another creative force in the Cloud is visual artist Brad Radwood. As his moniker suggests, Radwood's work is wood-focused. Using primarily found wood objects as canvas, Radwood paints, designs, and/or crafts images according to the contours and grooves of the wood and its knots. Like Green, Radwood benefits hugely from the Cloud's communal, multi-purpose nature . He has frequently exhibited art at events run by fellow Cloud artists. He is, however, working towards his own independent and reoccurring art exhibit called The China Cloud Gallery. Always a lover of puns, his first show on March 7 is titled Re-Porpoised Wood, and is open to the public. Having been at the Cloud for nearly three years, Radwood discusses how the space might best survive in this art-antagonizing city. The key, it seems, is secrecy.
"We like the way it is right now. I would say we do invite everybody, but it's not for everybody." From the beginning he was told not to over-expose the place, as its creators wanted to keep it special. "Don't blow up the spot," he repeats the caution jokingly. But the spot exploding is a real fear. "You hear about places that are a bit underground or word-of-mouth and then it's over because people get too caught up in ego." With a little extra attention, it doesn't take much to delegitimize an art space in government eyes.
Gauging Green's opinion on this matter, I ask if the Cloud could play a more inclusive cultural role in the city, perhaps in place of the recently closed Waldorf. Green's response is similar.
"We're all still pretty hung up about the Waldorf, but the reality is that a venue is a business and that's why this is an art space and not a venue, because it's not about money at all."
Exposure can be a romanticized concept. When it comes to art spaces, sometimes pensive privacy is the best catalyst for creation. And so floats the China Cloud, without ads, or calendars, or flashing arrows herding people inside. When you hear about an art exhibit or music performance, look for the fading cloud on the door and enjoy your night. It won't happen every weekend.
____________________

For more info on Radwood's work, events, and March 7 show, visit bradleymesserart.com or surf over to the Facebook machine.