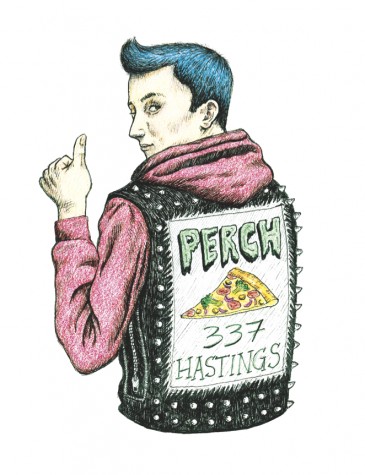 Fresh from the purgatory of trading spaces, East Van dining/hang-out staple, Perch is back. Though it can't be considered a "live music" venue, it is without a doubt musically inclined and caters to people with similar inclinations. Discorder spoke with manager Lu Lee about the space and its recent move.
Touting itself as a "Rock & Roll Primary," Perch suggests folks stop by for "pre-show eats" or to plug the antique Wurlitzer jukebox, stocked with essential rock 45s. Its new location adds weight to these suggestions, as the diner now finds itself nestled in a cozy spot on East Hastings within walking distance to venues like the Rickshaw, Lanalou's, the Astoria, Zoo Zhop, Funky Winkerbeans, and Fortune Sound Club. For the show-going demographic of the area, a place like Perch was severely lacking.

Formerly located at the intersection of Powell and Commercial, the space was bordered by, among other things, a storage warehouse and a parking lot; not exactly a bustling hub of activity.
"Our Powell street location had a lot of charm, but like most places that can be described as funky or unique it presented some serious challenges. It was a very small and oddly shaped space in an obscure part of the city.  We needed more space to grow and the ability to reach a broader audience.  We found the new space on Hastings and we fell in love with it," says Lee.
Though it was popular for Powell/Commercial area residents privy to its location, the move has indeed opened it up to a lot more foot traffic that may be looking for a few pre-show pints to warm things up or a post-show snack to soak up the evening's excesses. Music and cheap beer aside, it is actually the snacks that make Perch stand apart, most notably their selection of always-gluten-free pizzas, to which Lee added, "One of the biggest challenges of the old location was finding the space to make all the food.  We make everything from scratch, so having a much larger kitchen is amazing."
As far as music events go, Perch plans on hosting weekly DJs, as well as rekindling their old bingo night. Even the Wurlitzer will be getting some treatment. "[Owner] Matt [Hewlett]is a total record fiend, so the jukebox has been filled with records from his own collection, but we are looking at switching it up a bit," says Lee. Our very own campus and community radio station CiTR 101.9, who will spend part of their 75th Radioversary at Perch this month, will be curating a selection of 45s donated by the station, programmers, local bands, and record stores.
"We were approached by CiTR about them curating and we are super excited for that to happen! So far there are no plans for anyone else to curate, but we are happy to talk to anyone who may want to" says Lee, adding "We are planning a grand opening party for late November. It will feature performances by local drag and burlesque artists, killer drink specials, and sick tunes provided by a local vinyl DJ, so check our Facebook page for updates."
With a fully stocked bar, a soon to be re-stocked jukebox, a menu that would appease vegan, vegetarian, and omnivore alike, a kitchen that is open until midnight seven days a week, and a new primo location, Perch may just be what your local gig-night was missing.
__________________________

Visit eatdrinkperch.com or facebook.com/bkPerch for updates on all happenings at Perch.