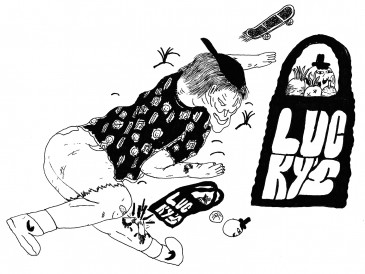 Even though Lucky's Comics has been at 3972 Main Street since 1995, live music shows are a relatively new venture for the store. When you enter, it is immediately obvious why: the place is both tiny and filled with books. Regardless, it's being made into an all-ages venue all its own.
Owner Gabe Winder says Lucky's began hosting sporadic shows in the back room gallery a few years ago. Since then, it has evolved from a mostly comic and book store into a sort of comics and arts hub. The feel is a little more family friendly, as indicated by the paper crafts in the front, and it appeals to a broader audience, as indicated by the huge range of illustrated books available.
Though concerts are not entirely new to Lucky's, in the last few months they have emerged as a staple. Shortly after Music Waste in June when Kellarissa and Slight Birching played, Will Anderson of Weed started curating monthly shows. His idea is to create an all-ages shows in the space with a variety of music genres.

"I remember what it was like to be 17 or 18 and being in town where you couldn't see your favourite bands play. Now being 19-plus, I often think it would really cool for a teenager to see this concert and maybe be inspired." Hosting concerts also fits with Lucky's emphasis on providing a community space for art events and book launches, and the odd soundscape project for artists in the area.
In addition to the shows during Music Waste, Lucky's has hosted Johnny de Courcy, The Courtneys, White Poppy, and Waters. Its challenge remains that it is small, even for a bookstore. The room for gallery exhibitions doubles as the music space in the back. While overflow can spill into the back lane — where Winder keeps his tools for building bookshelves — maximum capacity is still about 20. In the past they have managed to maximize the use of space, hosting a cramped audience in the gallery with a full drum kit. To make things a little more reasonable, the shows are now often held in the front room, which has slightly more space; it's still small and cosy, and actually the perfect venue for an intimate show. It's unpretentious, fun, and noisy.
During September, the tables and shelves will be moved aside for more soon-to-be-regular monthly events. Coming up, a mere five dollar cover will get you into Cascadia and Hemogoblin (September 20).
Lucky's website also lists upcoming events including readings, gallery exhibits and the occasional 'zine making workshop. And whenever the store is open, Lucky's always carry comics.
____________________

Visit Lucky's on the regular for books, comics, music, art, and more at 3972 Main Street and at luckys.ca