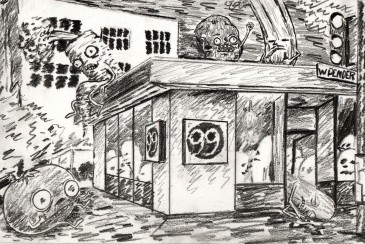 A vacant property on the edge of Chinatown at Abbot and Pender, once a Budget Car Rental office, sits unused for three years, at the mercy of weeds and vandals, in dire need of rehabilitation.
Video artist and Chinatown resident, Mairin Cooley, had enough of it. So in June, the non-profit Dropout Video Arts Society (DOVA) — of which she is a founding member — took out a 16-month lease on the property. Cooley began fixing up the depressing "ugly" and "un-humanistic" collection of stumps — and not much else — in front of the building.
The result of Cooley's work is the NINES, which she bills as a "Slow Food and Culture Club." The NINES is a concert venue, a gallery, a classroom and meeting space. It will also house a cafeteria, which will serve locally-sourced organic meals.
Naming the space after its address at 99 West Pender Street, she enlisted the help of friends along the way, like boyfriend Patrick McManus, an industrial design student from Calgary, and local food writer Leanne Kriz.

A five-minute walk from Stadium-Chinatown Station, the NINES' glassed-in lobby is open and inviting, affording views of the surrounding streetscape when it's not covered in colourful translucent film for atmosphere and protection from prying eyes.
Graffiti-covered light boxes, which previously marked the Budget office, face the street. Cooley hopes to use these for artwork, but for now they await a cleaning or new Plexiglas.
As the light boxes' dilapidated condition might indicate, the NINES is still a work in progress. Cooley continues to repair a planter outside; there is now a small bench made out of driftwood affixed to the edge of the small concrete box, along with new saplings replacing its old tree stumps. Cooley says McManus will also paint an overhead sign for the space and make a pair of custom tables for the café.
The venue is an extension of Cooley's artistic practice, of interventions in the urban landscape, and as she puts it, "a discussion to make things better" in the city.
"If you walk by something enough times, do you ignore it? Or do you decide that there's some work to be done and [that] you want to do something about that?" she asks, and adds that this d.i.y. approach is common in Vancouver's artistic community. Cooley also says that the NINES is an exercise in personal and community development.
"In Vancouver, we see lots of people starting up pop-up stores, galleries, and doing a lot of gardening around the neighbourhood, so I'm not the only person who feels this way," Cooley says. "[The NINES] is as much of a project to learn what I want to do with my life as it is to set an example to other people [on] how they can start businesses and take advantage of property in the city."
No stranger to entrepreneurship, Cooley also runs the Lions Den gallery at 79 East Pender, and works as a freelance professional videographer. Cooley is already renting the NINES as a classroom, and a few customers have shown interest in the opportunity, including an ESL teacher who wants to use the space for his conversation classes.
Music Waste marked the NINES first shows, with Johnny de Courcy, Nam Shub and Gal Gracen (Patrick Geraghty) playing official festival shows on June 8, and Juice and Tight Mike playing a Go Your Own Waste gig on June 9.
The June 8 and 9 events also featured video projections from artists including Liz Van Allen Cairns, Ashlee Lúk with Mel Paget, Tom Whalen and Chase Porter.
Later in June, the NINES hosted the works of Saskatoon-based artist Jon Vaughn, with a collection of '90s Canadian trash films, video art installations, drawings and collages, evoking the late-twentieth century ephemera of the artist's childhood.
Upcoming events at the NINES include an unveiling party for McManus's new sign and a summer concert series. Starting July, when the venue officially opens to the public, the NINES will be open for events from 6 to 10 p.m. on Wednesdays and Fridays. The café, open for brunch and dinner, will also open in July.
For more info, visit  niners.ca.
To book the venue, call Mairin at 604-537-3549 or email  99pender@gmail.com.