On a sunny evening in June, city councillor Heather Deal from Vision Vancouver, myself and Kalin Harvey from Pro Fun City went on a bike ride. On our ride we stopped by a number of venues that seem to keep coming up in the pages of this paper for the trouble they've been having with Vancouver. We met with those who run Little Mountain Studios, the Cobalt, the Peanut Gallery (now defunct) and some of the directors of the Safe Amplification Site Society [ed. We don't get into the discussion with SASS much here, but check out the profile on them on page ten]. We also met with one other venue that preferred to remain anonymous out of fear of reprisal. For the purpose of this article we will refer to their venue as Location X and the owners as Jack and Jill. These various groups spoke with Deal about the problems they'd faced and what could be done to make it easier to run a venue in Vancouver. Deal put forward some big ideas for change that could help venues run in the city.
The owners of Location X identified an attitude problem amongst those who enforce the bylaws that venues have to abide by. Police and bureaucrats who dealt with the situation universally came at Jack saying, "We will shut you down," he said.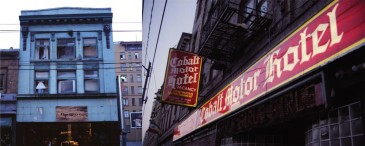 At a hearing to determine the fate of Location X's liquor license, Jack and Jill related that the adjudicator of the case told them their business should not be run like a community hall and that if people don't buy food they should be kicked out.
This exemplifies one of the biggest problems in Vancouver's music scene: the seemingly antagonistic
attitude between the more official and authoritative channels at City Hall and the actual musicians and music fans. In the case of Location X, Deal said that people seem to be coming at it with an attitude that "music
equals excitement which equals trouble which equals bad."
This may be changing with some priorities for bylaw enforcement being rethought Deal said. "My highest priority for [bylaw] enforcement is health and human safety," she said.
While Deal said she was unlikely to get in there and micromanage staff decisions about individual situations, she and her party, Vision Vancouver, want to prioritize issues such as human safety rather than following a strict rules-based bylaw method of enforcement.
While at the Cobalt, Wendy13 and Kalin Harvey from Pro Fun City agreed. Bylaw enforcement needs to be "less rule-based, more outcome-based" Harvey said.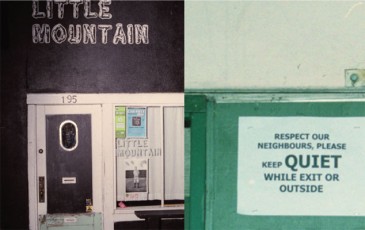 We also discussed that there is no way for businesses to be classified as art spaces. Though a number of ideas were passed around, what seemed to be the best solution to the licensing problem was Deal's idea to simplify business licenses in order to treat businesses as "black boxes" which would allow them to be run with multiple uses. A space wouldn't be licensed to simply be a retail gallery, venue, bar or restaurant, it would get a more general designation that would allow a business to operate in a more general sense. This would allow venues to run as other businesses during the hours that they aren't hosting musicians which would allow multiple revenue streams in a single location.
Harvey said this was a great idea, not just from a cultural perspective, but also from a business and environmental perspective. "It's a different way of increasing density," which he noted aligns with City Hall's goals to find more efficient ways to use space in Vancouver.
One other bit of good news that came from the tour is that Deal believes that the infamous audience participation bylaw that prevents people who are listening to music at venues without a cabaret license from dancing or otherwise participating in the performance "needs to go right out."
While all of this will take awhile to get through the inefficient beast that is the bureaucracy of City Hall, it's certainly hopeful to see that some of these changes might be made—which would make it a lot easier for someone to run a venue in Vancouver.
Though it didn't come up on the tour, it would be a shame to write this entire column without mentioning the opening of the Rickshaw Theatre at the old Shaw Theatre location on Hastings. The newly renovated building is run by Dave Duprey, who previously ran the Sweatshop. It's got a capacity of 700, which makes it one of the biggest venues outside of the downtown core. And it will be able to host both all-ages and licensed events. There's not a lot of info on events posted on the Rickshaw's website (rickshawtheatre.com), but having a theatre this size is big news and we can't wait to hear more about it.
And to finish: a couple downers. It looks like the long rumoured closing of Richard's on Richards will happen July 21. The Georgia Straight reports that the building will be demolished and turned into condos. A new venue with the same license will open downtown in mid-October, which will only have live music Sundays through Thursdays.
In North Vancouver, Seylynn Hall closed its doors after serving as a landmark institution for Vancouver's punk scene. In the 13 years it was open it hosted a lot of shows and affected a lot of lives. It will be missed.