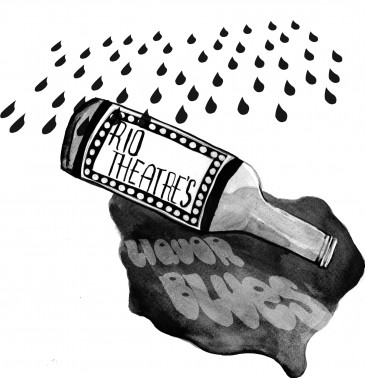 It's hard to imagine the Commercial Drive neighbourhood without the presence of the Rio, and yet this month the future of the historical theatre looked very uncertain as it continues to face struggles over liquor licensing, including a ban from screening films.
The problem arose when the Rio's management applied for a liquor license that would allow them to serve drinks to adults at live events, with the aim of diversifying the theatre's purpose to host more local and touring bands. What from a practical perspective seems like a great way to use a community space for multiple purposes turned out to be a no show for Vancouver's ultra-conservative liquor licensing.

On January 19, well over a year after manager and owner Corinne Lea began the hurdle-filled application process, the theatre was finally approved to sell alcohol at events, but with one catch: they were to stop screening movies, effective immediately, due to a condition raised by the B.C. Liquor Control and Licensing Branch. Stirring up outrage and concern, the theatre's management and patrons were backed by Democrat MLA Jenny Kwan in raising their concerns as the issue was brought to Provincial government.
The answer arrived on February 9 from LCLB minister Rich Coleman, allowing license holders to screen films outside the hours provided in their liquor licenses. While this technically allows the Rio to continue being an actual movie theatre by showing movies during the day, it is far from a fully functioning solution. According to Lea, the Rio needs to be able to screen movies any nights that live events aren't scheduled, and even with the modified laws, the management can't attain the flexibility they need to remain financially viable. In light of the modification to the rules, Lea and the Rio's team are continuing to press Coleman to lift the ban fully.
The loss of the Rio would be unfortunate in a city where you can barely count all the neighbourhood theatres on a single hand, as independent theatre owners struggle to compete with the massive multiplexes nesting in malls. Not only would this leave cult film fans without a place to see the Rocky Horror Picture Show every year, it robs this city of a unique and historical cultural venue.