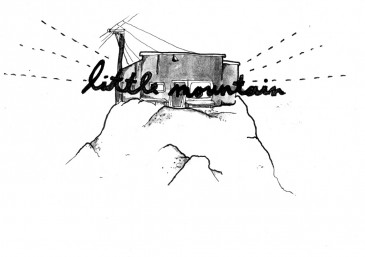 Little Mountain, the Mount Pleasant gallery and venue, drew the attention of Vancouver City Hall's bylaw inspectors after numerous noise complaints were made about the venue. As a result, the venue is currently holding a moratorium on live music performances.
"The cause for alarm was that there were a lot of similarities to when The Butcher Shop was taken down," said Ehren Salazar, who co-runs Little Mountain Gallery which operates in the same space that the venue, The Butcher Shop, operated.
"I respect the art and I respect the music," said Jason, a resident on the same block as Little Mountain. "It's just too late and too loud."
Fritz, another neighbour on the same block said, "It's been a problem. I have called the police," adding that "They are presenting themselves as a gallery, but it is a party with up to 100 people. … They are not licensed." He also added that he had been threatened by someone attending their shows.
In response to the criticisms Salazar, who co-runs Little Mountain with Nathan Drillot, said they never have events past 1 a.m. and those are infrequent and only on weekends.
"The incident [where Fritz was threatened] wasn't with anyone affiliated with us. It was someone from Car Free Days," he added. "I wish he [Fritz] knew that. I don't even know who the guy was."
Other neighbours offer different opinions of the gallery.
"As a music venue it's great and as an art gallery it's great," said Spencer Schoening, who has lived next to the space his whole life. "You've got to expect a little bit of community living in one of the coolest neighbourhoods [in Vancouver]."
By "community living" Schoening is referring to noise that spills into the residential area from Main Street, something that Salazar feels that Little Mountain gets scapegoated for, as they are on the boundary between Main St. and the residential area. "Sometimes we'll finish closing up after a show and … Main St. will be bumping."
"Personally I have not had a problem with them," said Spencer's mother Jody, who has lived on the block since 1986. "I like it a lot better than the smell of lamb rotting in the garbage," referring to the butcher shop that occupied the space before it became a gallery and venue (hence the original name, The Butcher Shop).
After getting a number of noise complaints Salazar and his partner decided to go to the city pre-emptively to deal with any problems with Little Mountain being a venue before they got out of control.
The venue has to undergo inspection, but the city is waiving the usual inspection fee and withholding enforcement as long as Little Mountain continues to cooperate with any upgrades needed to bring the building to code.
"[Little Mountain's] such a rare venue in Vancouver," said Diana Leung, Vancouver City Hall's Cultural Liason. "It's a small venue that people can afford … It's not a question that we want the space to stay open."
Leung is working to implement a series of sweeping changes to the bylaws that look after venues in the city, however those changes are not expected to begin being implemented until January of 2011 at the earliest.
Little Mountain is currently holding a moratorium on music shows, but continues to be used as a theatre space. The music shows that had been booked prior to the moratorium have been moved across the street to the Ethiopian restaurant Nyala.
If Little Mountain begins hosting music again Salazar said the music would be "catered to the space—acoustic—I'm not into doing super crazy noise shows."
Little Mountain has plans to apply for a cultural infrastructure grant, a grant provided by the city to help cultural spaces do necessary upgrades to meet bylaw requirements, which they hope will be enough to cover the costs of any renovations needed on the space. (If you are interested in applying for this grant, the deadline is mid-September so you'd better get cracking.)
A letter writing campaign in support of Little Mountain was organized by the Safe Amplification Site Society, which sent 200 letters to Heather Deal, the city councillor from Vision Vancouver who works on most arts and culture issues.
"We were really getting burnt out, but the people from SASS have been really helpful rallying support," said Salazar.
The letters may have made an impression with city hall, but as Little Mountain's neighbour Jody pointed out, most of the letters are probably not from people who live near Little Mountain.
The fate of Little Mountain is still uncertain, but we will continue to keep you
up to date on the issue as things progress.
In other venews:
Dave Bowes from the Strathcona after-hours artist studio Iron Road announced the space would stop hosting events on Aug. 27 after it ran into some problems with Vancouver City Hall despite the venue's best efforts to make "extensive fire safety preparations and acquisition of liquor licenses." Diana Leung at city hall did not have enough information on the situation to comment, but as of press time the after parties for the Business and the Angry Samoans have been cancelled and the space will not be holding future events.
The Vancouver Fringe Festival has organized a number of shows at Agro Café on Granville Island from Sept. 9 to 19, making for a temporary venue in the city. There's a bunch of cool bands playing including Fine Mist, Wintermitts, the Creaking Planks and Dbl Dragon. Check the calendar for a full listing on their website under "Fringe Bar."
The Vancouver Courier recently reported that long time Kitsilano jazz establishment Rossini's is shutting it's doors after 18 years of providing a place for jazz aficionados to catch music in town.