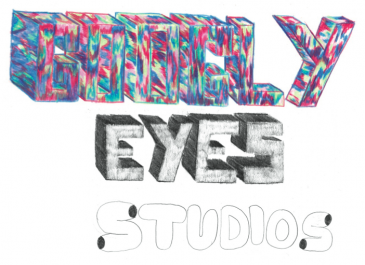 It's near impossible to count the times someone has raved about a show because it felt so up-close and intimate. Stand-out concerts are often those spent shoulder-to-shoulder with fellow music fanatics, close enough to watch sweat bead down the drummer's face, or to hear the creak of the singer's chair as they tune their acoustic guitar. Those are the shows people want more of, and the folks at Googly Eyes Studios are making them happen.
After feeling a void in Vancouver's West End for artists to share ideas, perform, and have a place to work, the collective that makes up Googly Eyes — Jensen Gifford, Benjamin Garner, Sonya Opal, Cali Travis, and Shane Scott-Travis — decided to set up shop in the place they know best: their home. Situated in the heart of the West End, Googly Eyes is located above a tiny convenience store and acts as half artist studio space, half apartment to Travis and Gifford.
From the look of the front door, it's easy to assume you might have the wrong address. The studio is camouflaged nicely amongst the charming character houses surrounding it. But ascend up the steep wooden staircase, and it's like discovering a top-secret lair. The space is unique, yet homely and familiar. In place of a living room there's a small stage for bands to perform on, and instead of a second bedroom there's a quaint art space fit for a gallery showing. "There's something really special and intimate about a unique space like this that we want to share with as many people as we can," Travis says.

Googly Eyes has already hosted several events, the most recent being a show with Calgary trio, Raleigh, and an exhibit of Opal's illustrations. Travis and Gifford, who are also in the studio's house band, We Are Phantoms Again, have even recorded several tracks at Googly Eyes.
Much of the success of its events and projects is credited to the space itself. Admiring venues like the Railway Club and the Biltmore Cabaret, the founders of Googly Eyes know the benefits of having a smaller space for live shows.
"This house that Googly Eyes exists in is a really special place. It's a really creative place," Scott-Travis says. "The people who have played here have been really enthusiastic about it. They all want to come back."
Scott-Travis, Travis, and Gifford also express how supportive and interested the neighbours have been, inspiring them to host family Halloween arts and crafts events, as well as possible matinee shows. But the real goal is to extend their reach beyond their beloved neighbourhood. In the works is a show with Victoria's Hawk and Steel, and collaboration with other art collectives and venues in the city.
However, as crowds get larger and more people discover their events, it begs the question: how Googly Eyes will manage and balance the business side of things while retaining the fun, communal vibe?
"We're not doing this to make money. We're doing this to make friends," Scott-Travis says with a laughs.
With their warm welcomes and early success, it's a statement you can believe. It's only a matter of time then, before the Googly Eyes gang will be the most popular kids in town.
_________________________

Googly Eye Studios is located at 957 Nicola Street. For more information on getting super googly, check out their Facebook page.