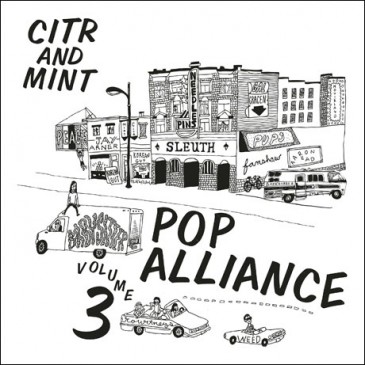 If you missed the release of the third volume of Mint Records/CiTR's Pop Alliance and the Fundrive finale at Chapel Arts on March 8, you missed out on one good night. Masterfully compiled by Duncan McHugh and Shena Yoshida, the album has 14 fresh Vancouver- and Victoria-based bands, featuring a colourful array of nuovo disco, stoner rock, gypsy pop, and garage fuzz.
A precious "1-2-3-4 Get Fucked" by Movieland kickstarts the solid track list. The surf-y girl group mimics a less intricate Bleached, with calm vocals and driving fuzz. And during Peace's "Your Hand In Mine," it's easy to imagine a heartbroken teenage boy, styling a Bowie lightning bolt across his moonlit face.

Jay Arner's "Bad Friend 2" follows, similar to Peace, with a Sean Nicholas Savage twist, and quiet POND-like vocals. The fourth track, from Gal Gracen, blends dreamy guitar riffs with a Jesus and Mary Chain-esque vibe. Next, the soft doo-wop tune of Pup's "Cement" suddenly and unexpectedly transforms into a racing, surf punk tune.
After the alluring glam-wave melody of Fanshaw, the album dives into several stoner rock tunes hammered out by Aaron Read, Korean Gut, and Needles//Pins, thrusting the listener in and out of a noisy whirlwind which ends with "90210" by the lovely Courtneys.
A molding of '90s angst and apathetic '70s savviness trails out of the speakers throughout Babysitter's "Be Cool," followed by a catchy and fluid, "JD" from Bankrobber, a personal favourite. Its buttery orchestral sound lures the listener through tribal drum beats, drippy guitar riffs, and spastic, gypsy-like wails.
Finally, Weed bangs out "Even Black" with fuzz similar to Aaron Read, but with darker undertones and heavy effects, before the album concludes with "Apocalypse, Please Sign the Release Form First" by Sleuth, mixing nuovo disco with '60s inspired guitar, unimpressed vocals, and synths similar to Molly Nilsson.
It's clear the summer months will be flooded with good, solid music played by Vancouver's and Victoria's best.