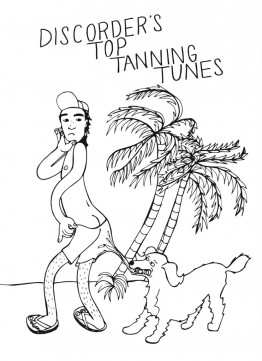 Vancouver, it's time to shed those toques, pack the Goretex away, and bust out the SPF 30. Summer is coming! What would this season be with out a butt-shakingly great soundtrack? Probably still quite lovely, but not as fun, so we've curated our favourite songs from now and then to share with you. Pack up the cooler and break out the frisbee, and we'll see you at the beach.

Penny Clark, contributor
New: "Rock and Roll Night Club" by Mac DeMarco (Rock and Roll Nightclub, 2012)
Every time I enter within the beach vicinity with my music on shuffle, that song comes on.
Old: "1977" by The Clash (White Hot B-Side, 1977)
I can specifically remember listening to it in the early days of summer last year while stepping out the door into the sunshine, hearing the opening chords and being like, "Yeah!"
_______________


Sarah Cordingley, music director:
New: "Better" by Teen (In Limbo, 2012)
A shimmering sweet and softly sarcastic ray of light from one of the most underrated albums of last year.
Old: "Red Towel" by The Beakers (Red Towel, 1980)
Playful post-apocalyptic post-punk full of searing saxophone and images of a bleak, melted future. This song came to me in 2001 on a mix tape made by Nathan Howdeshell (of Fast Weapons and other famousnesses). It was promptly dubbed to a minidisc (the convenient digital music format of the time) and served as the soundtrack to at least one sweaty summer West Coast tour.
_______________



Jacey Gibb, contributor:
New: "San Francisco" by Foxygen (We are the 21st Century Ambassadors of Peace & Magic, 2013)
It's the perfect summer jam: one part summer-haze, two parts pleasant melody. Place in mixer, blend, pour over ice and serve with a sunny day.
Old(ish): "The Bay" by Metronomy (The English Riviera, 2011)
The perfect soundtrack for a shore-side, summer drive with your three closest friends. Not to mention the suave music video, which basically drips with hints of paradise.
_______________


Coleman Ingram, contributor:
New: "90210" by the Courtneys (debut LP, due June 2013 on Hockey Dad Records)
The video makes it: a beach side pizza party set to one of the catchiest, most fun songs I've heard in a while. I couldn't wait for summer from the moment I saw it a few months ago.
Old: "Celebrated Summer" by Husker Du (New Day Rising, 1985)
Though it's not the most "relaxing" song and probably not very beach friendly, it sounds like all of my adolescent summers churned into one. Beautiful sunny nostalgia.
_______________


Josefa Cameron, contributor:
New: 'Salvation' by The Liminanas (Crystan Anis, 2012)
My sister and I walked into Dandelion Records looking for French oldies. They didn't have what we wanted, but raved about Crystal Anis. We listened to the first song and bought it right away. It sounds like something Sophia Coppola would have put in Marie Antoinette if she could have.
Old: "Straight to Hell" by The Clash (Combat Rock, 1982)
The drumming is entrancing, It's a perfect sun scorched road trip song, and I was asked to elope over this song … qui sait.
_______________


Dorothy Neufeld, official tweeter:
New: "Sylvan Tragedy" by Gal Gracen (Blue Hearts in Exile, 2013)
Man, bought this tape for the Green Burrito cassette release of Gal Gracen and Aaron Read at the Astoria. Went for a drive and popped this in, it was a blast.
Old: "(You) Got What I Need" by Freddie Scott (Cry to Me: The Best of Freddie Scott, 1988)
I'd only heard this sampling in Biz Markie's "Just A Friend" until I watching a movie and the original came on. I just love this.
_______________


Cali Travis, contributor:
New: "Freaking Out the Neighbourhood" by Mac Demarco (2, 2012)
It keeps the BBQ sizzlin' and everything laid the fuck back.
Old: "Runner Ups" by Kurt Vile (Smoke Ring For My Halo, 2011)
This reminds me that sunny summer times don't have to be real happy to be real good.
_______________


Steve Louie, RLA editor:
New: "Tie Dye (Your Life)" by Literature (Tie Dye single, 2013)
The band is from Philadelphia-via-Austin. Who moves to Philadelphia from Austin? I'll take new music from Philly.
Old: "You Should All Be Murdered" by Another Sunny Day (You Should All Be Murdered single, 1989)
I first heard this couple of years ago when going down an Internet rabbit hole search on the whole C86 phenomena. Best cranked up on fair weather road trips. The jangle and the outro to this song instantly got me hooked.
_______________


Evan Brow, contributor:
New: "Dance For You" by Dirty Projectors (Swing Lo Magellan, 2012)
For me, summer and tanning and sunshine are about the carefree. Ice cream on a Tuesday. T-shirts day and night. Bug bites that are worth it. "Dance For You" is the summer angel that bathes me in a pool of happy-go-lucky.
Old: "Kokomo" by the Beach Boys (Still Cruisin', 1989)
Probably heard in 2003 in one of my grandfather's Hawaii montage videos. I'm a sucker for a cheesy classic. Hell, I don't even like it that much. But summer comes along and bam, "Kokomo" is good to go for me.