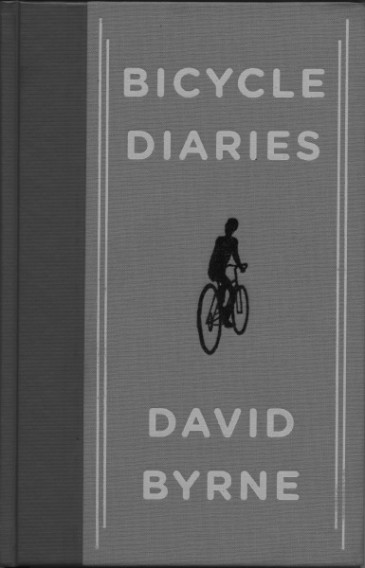 David Byrne packs a big suitcase. So big, it could likely hold the giant suit he wore when he belted out "Psycho Killer" on the Talking Heads' arty but still popular Stop Making Sense tour in 1983.
Now picture Byrne—a trim Scottish-American in his mid 50s, sporting a smart collar shirt and brushed white hair—as he rolls that big suitcase up to a hotel room in Manila, Istanbul or New Orleans. He shuts the door, slips on rubber gloves and quietly unfolds and assembles a full-size bicycle without getting a spot of grease on his fingers.
Sometime after he grew out of the Baltimore suburbs, art school and geodesic domes, David Byrne started zipping around New York by bicycle. That was a pretty uncool way to go between clubs and galleries in late the 1970s, he wrote, but he loved it. He loved the air, the speed and the cyclist's world view—one that looks for street life before it looks for cars.
Bicycle Diaries aspires to be the kind of trip Byrne found in W. G. Sebald's novel, The Rings of Saturn, which traces a narrator's thoughts as they slip from the significance of hospitals to silkworm and an esoteric 17th-century scientist named Thomas Browne, all in the course of a long walk along the British coast.
And, like Sebald, Byrne scatters black and white photos all through Bicycle Diaries. Some of the shots are reproductions of paintings or installations by the various artists Byrne meets with and others are neat archival photos, such as a portrait of artist Grayson Perry with his wife and daughter on the day he accepted the Turner prize and said, "It's about time a transvestite potter got this prize!" Some of the best, though, are Byrne's own, such as a nondescript snapshot from an office desk in the Stasi museum.
The photos, and the side trips to places like Argentina's shrine to the Saint of Unemployment, give Bicycle Diaries the look of a classic travelogue. There are lots of curiosities here—embalmed dictators and Australian dogs who've gotten hooked on licking cane toads.
But, more than a travelogue, Bicycles Diaries reads like a set of free-wheeling essays. The far-flung cities, combined with Byrne's awesome art projects (he made a singing robot, another Brian Eno album and a set of NYC bicycle racks all in the last year), give Byrne dozens of jumping-off points to say what he likes about souks [ed. a.k.a. a souq, this is the market in any Arabized or Muslim city], PowerPoint and mediated bike lanes; and what he hates about car culture, PowerPoint and Robert Moses.
If you happen to be a liberally-minded cyclist who digs outsider art and good music, you might not find a lot of surprises in what Byrne has to say. But the way he says it, earnestly, with bits of swearing and a frequent use of the word "funky" that really dates him, makes Bicycle Diaries an inspiring read.
According to his blog, Byrne is nearly done recording an audiobook version of Bicycles Diaries, which will play with some kind of soundscape in the background. Better still, he is toying with the idea of podcasting the book for 99 cents a chapter—a wonderful thing if you ride with headphones. [ed. Andy! Don't tell people to do things that are unsafe! You'll get us in trouble!]