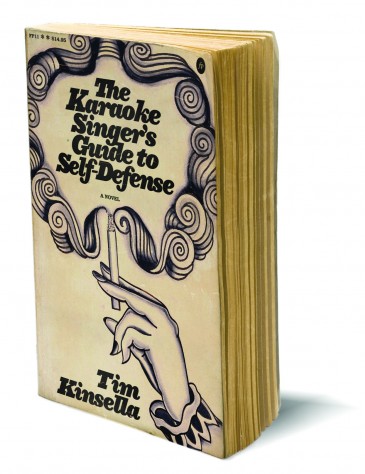 E ver gone to a funeral and wound up on a toilet floor bleeding? Such an unlikely scenario may have been within the realm of possibility for Will, a character in Tim Kinsella's debut novel, The Karaoke Singer's Guide To Self-Defense. The longtime frontman for eclectic, Chicago-based rockers Joan of Arc, Kinsella recently re-directed his artistic drive towards a masters in creative writing, giving birth to his impressive tale.
Will is a street-fighting addict who has returned to his home town of Stone Claw Grove after a five-year absence to attend his Grandmother's funeral. At this rare gathering of his working class family, unresolved tension and hang-ups underlie their scrubbed-clean appearances.
The lives of other outsiders intertwine with Will's family throughout the story. There is Sarah Ann, a teenage runaway who ends up working at the Shhh…, a strip club and karaoke bar frequented by Will and his siblings. Will's sister Mel is a lifer behind the bar, conflicted by her necessary periods dancing to support her child. There is also the disturbing addition to the story of a middle-aged man on the run with a kidnapped teenager who is laying low in Stone Claw Grove.
Kinsella doesn't fill the novel with fast action but instead guides the reader to dwell on the inner workings of these desperate characters. He utilizes shifts in time from the present day to past episodes of Will's legendary bloodletting in bars and car parks. The rewards of this style of narrative lay in the effective mapping of the psychological terrain governing the relationships between the family members and their connections to the other characters.
If the forced family occasion of the funeral doesn't allow the siblings to let their guard down after years of unprocessed childhood trauma, the democratic ritual of karaoke offers a possibility for the masks to drop, if only for a night at a time. "They lived on display. That was how it was. How it was meant to be," Kinsella writes of Will's defensiveness around his brother and sisters, who are likely anticipating a relapse of his addictive brawling.
The Karaoke Singer's Guide To Self-Defense reads as an impressive cross between Fight Club and a heartfelt Springsteen lyric—a low key and occasionally cryptic tale about the vulnerability and angst of regular American people.