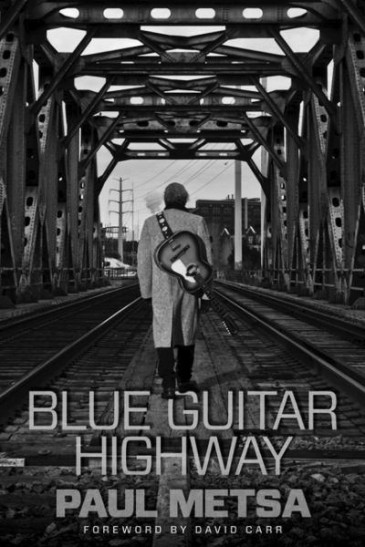 Blue Guitar Highway is an autobiography by Minneapolis, MN folk/blues musician Paul Metsa. A legend of sorts in his home state, Metsa has earned a living as a professional musician for close to 40 years. In his book, the seasoned songwriter reflects on a series of well-received recordings and memories of thousands of shows in every imaginable venue, from pool halls and biker bars, to Neil Young's star-studded Farm Aid.
If Seattle was the centre of the rock 'n' roll universe in the early '90s, Minneapolis had its own galactic-sized pull during the mid-'80s, with the Replacements and Hüsker Dü leading a burgeoning scene of post-punk and d.i.y. acts. Metsa came of age in this scene, although his path has continued to down a more traditional singer/songwriter blues and folk route. In the decades since, he's held extended stopovers in Los Angeles and even remote Russia.
Metsa writes in a loose but descriptive style that is fitting for a guitar-slinger who has remained relatively unscathed after years of touring and risk-taking, due in part to an unrelenting self-belief in his vocation. This is not an angst-ridden tell-all, or a Mötley Crüe-style tale of excess. Metsa instead speaks in awe of moments like performing alongside his hero Pete Seeger and others at a tribute to Woody Guthrie at the Rock and Roll Hall of Fame, and chronicles his valiant efforts to fight the demolition of the historic Guthrie Theater in Minneapolis.
Blue Guitar Highway is a convincing testament to the strength that a performer can draw on by remaining in touch with his or her roots, while remaining open to the trials and rewards along the road of an America steeped in song.