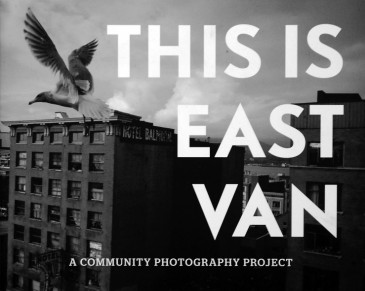 Vancouver has just been graced with two new visually stimulating books. Both books , in a way, are aimed at promoting social change—one showcasing the city's punk rock past and the other a contemporary look at East Vancouver culture and community.
The first is Joe Keithley's new book Talk – Action = 0, An Illustrated History of D.O.A. The equation in question, which also serves as the title of the Vancouver punk rock heavyweight's most recent album, has become somewhat of a slogan for the band. Interestingly, the group first saw the saying printed on the cover of an anarchist magazine. In light of any sort of activism, it's a great slogan, but if one were to re-arrange the equation wouldn't talk also = action? I digress; algebraic musing is not the point. The point is that front man Keithley, also the founder of Sudden Death Records, has been involved in activism since his teenage years, protesting the nuclear arms race in downtown Vancouver in 1973, playing over 200 benefits and protests over the years with D.O.A. for various causes: anti-racism, anti-sexism, anti-colonialism and environmental protection, among others. There's one thing this book certainly sheds light on: punk rock is hard work! Keithley, a.k.a. Joey Shithead, reminds us that actions speak louder than words, suggesting to the reader to. "Be your own boss, think for your self, and effect some positive change in the world."
The book is a fascinating account of D.O.A.'s gritty, unapologetic punk rock history, from their inception in 1978 up to the present. The book is packed with old show flyers, set lists, photos and lyrics scratched down on scraps of paper that supplement a chronology of the band's progression. One note-worthy image, out of the hundreds included in the book, is a handbill for a 1979 show at UBC's SUB Ballroom. The flyer sports a grainy image of D.O.A.'s original lineup strutting down some street, clad in tattered denim with a "we don't give a shit" swagger. In the corner is a smaller photograph of one of the members, presumably Keithley, shredding so hard on the guitar that it looks like his brain is going to explode out his eye sockets. What ensued that night was an all out riot in the Ballroom, landing one of the band members in jail. The original lineup ended up breaking up after that night.
Before D.O.A. went on to revolutionize second wave punk—hacking out the foundations for what is now known as hardcore—they were cutting their teeth d.i.y.-style at original Vancouver punk venues such as the Japanese Hall and the once mighty punk rock stronghold the Smilin' Buddha Cabaret. The book recounts another important performance early in band's career, which was the 1978 "Anti-Canada Day" show with The Subhumans and Private School in Stanley Park, where money was burnt along with a copy of the Canadian constitution, in an expression of anarchy. It doesn't get much more punk rock than that folks, with the exception, perhaps, of Keithley pissing on the crowd at a show in San Francisco's notorious punk venue Mahubay Gardens. Mad punk cred.
Next up is This Is East Van, a community photography project that is the brain child of locals Erin Sinclair and Jason Uglanica. The result is a collection of photographs showcasing the many faces of East Vancouver. About a year ago, the call was put out for people to send in images of their neighbourhood. Anyone could submit. It was a great way to express the diversity of the area, demonstrating how community members view their neighbourhood through their own unique lens. Although I have an affinity for the aesthetic of derelict buildings and seedy alleyways in photography, I was pleasantly surprised to see that the book paints a rather positive image of the neighbourhood. The photograph titled "Couple in a Shopping Cart" by Jen Osborn does a good job of this. The image captures a moment of affection that brightens the page with its un-posed genuineness, juxtaposing the backdrop of a grey Vancouver sky. Mind you, there are still images of derelict buildings and seedy alleyways, but they were chosen tastefully and do not seem to misappropriate or perpetuate any negative stereotypes of the community.
The only criticism I have towards the book is that it needs more angles of the neighbourhood to truly represent the dynamic community. A picture is worth a thousand words, but even so, how many pictures does it take to represent the collective lived experiences of an entire community? The book is already chalk full of over 150 full colour images, each of which tells its own story of East Van. I guess they'll have to make a sequel!
This Is East Van is available at various retailers including Mintage, Barefoot Contessa and the Waldorf Hotel. Talk – Action = 0, An Illustrated History of D.O.A. will be launched at a D.O.A. concert at the Rickshaw Theatre on June 4, which is also Joe Keithley's birthday!
Talk – Action = 0, An Illustrated History of D.O.A
by Joe Keithley
(Arsenal Pulp Press)
This Is East Van
by various artists,
curated by Erin Sinclair and Jason Uglanica.
(Independently published)