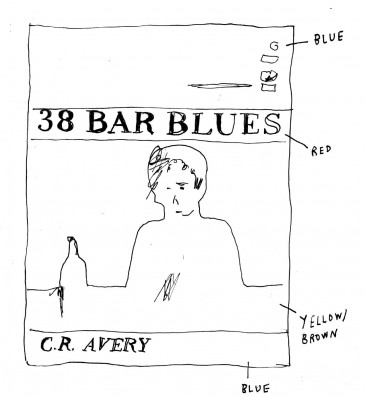 If you like poetry that will kick you in the balls, steal your girlfriend and smoke your cigarettes, than you should read CR Avery's 38 Bar Blues.
Are you familiar with the mystery that is CR Avery? A musician/spoken-word artist/songwriter/poet/beatboxer/harmonica virtuoso from Commercial Drive, Avery has been performing music and poetry since he was 17. He's recorded an astonishing 16 albums, written and performed six hip-hop operas up and down the West Coast, opened for folk legend Billy Bragg and is constantly on tour. His website says that "his incredible live performances have been described as Bob Dylan in the body of Iggy Pop colliding with Little Walter, the Beastie Boys and Allen Ginsberg." That's quite a cast of characters, but it's an apt description. He's a blue-collar poet for the working man who both likes to read and get into fights on the weekend.
38 Bar Blues stands on its own as a fine work of literature. This is outlaw poetry. The book examines different facets of Avery's life as a touring musician, as well as his love of women, cigarettes and the road. His publisher describes the book as having "the grit of any bar-room brawl you can imagine but filled with such romance you can't put it down."
The poetic imagery in his work is what really makes Avery's writing stand out. Take this stanza from his poem "A Few Thousand Words:"
The sun has gone to sleep in a heap of summer dresses.
The Mexican moon has not risen from her foldout bed
for the 9 below zero night shift.
Please lift the lights in the apartment windows of our village.
They are our only lonely guide
through the charcoal cold of her bitchy mysteries.
They will shine and illuminate unshaven black thighs
up to her royal blue undergarments,
waiting for handsome altar boys who are really young dykes
with switch blades concealed under their cloaks
to light the orphan star.
It's like reading a pane of stained glass. You could say his writing is akin to Americana because of his rustic images and tough style, but he loves Canada too much to be labelled with anything resembling "America." Avery revels in his Canadian roots and pays homage to national figures like Pierre Trudeau and towns like Sault Ste. Marie. This is brass knuckle poetry that will punch you in the face on one page and kiss your hand like a gentleman on another.
Fans familiar with CR Avery's work will finally be able to understand what he's saying in "Birdcage," a poem he often performs live about a man and a woman enjoying conversation in her "living room of living rooms" about her "birdcage piano." It's a truly phenomenal poem, but once you've seen it performed live, it comes to life in a whole new way. Avery's gravelly vocal delivery brings a dynamic quality to his work that will make you weak in the knees.
If you're a fan of Tom Waits, Charles Bukowski or Leonard Cohen, you'll enjoy 38 Bar Blues. And the next time you're on Commercial Drive, give CR Avery a cigarette, but hold your girl close;if he whispers a poem into her ear when you're not looking, brother, she'll be gone…and so will he.