If you were to call Aaron Read a weird guy, he'd probably take it as a compliment. As a member of The Sunday Service, arguably Vancouver's most prominent improv troupe, Read is a comedian who lives for absurdity, risk-taking, and strong characters.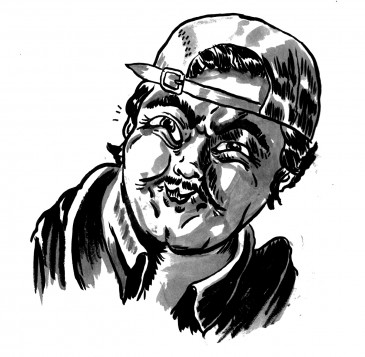 "I think some of that came from doing art school and getting into Mike Kelley or Paul McCarthy, where they focus on these really strange, grotesque things like vomiting or bodily mutilation," says Read. "I think a lot of that weird, fucked up shit gets translated into a more palatable form that I like presenting, that strangeness and that weirdness."
Discovering improv with the Canadian Improv Games in high school, Read found a style of comedy that could embrace his sense of humour. With inspirations like Saturday Night Live, Mr. Show with Bob and David, and a deep appreciation of Andy Kaufman and his ambitious, often-confrontational comedy, Read dove into improv with a definitive energy, feeling a bit alternative and very spontaneous.
"I like surprises. I think that's my favourite part of improv," says Read. "And I love that about comedy, when you see something that isn't so straight-forward, and you're wondering where it's going. And maybe there's a point where it turns, but then it'll come back. Oh man, that's my shit."
Now, after six-and-a-half years with the Sunday Service, Read has risen from an ambitious teen just out of the high school circuit to a mainstay in the alternative comedy scene. As one of the five current Sunday Service members, sharing the stage with Ryan Beil, Caitlin Howden, Taz VanRassel, and musical improviser Emmett Hall, I was curious how Read felt he fit within the group, his sense of humour and his style.
"I think maybe three years ago I would've been the pure wildcard [within The Sunday Service]. And while I still had control and I still knew what I was doing, I could come in from the side and introduce something different. I would say now I'm a little more of a well-rounded member. But I think I still throw a crutch in a lot of stuff. Because I feel a lot of the 'moves' I'll make are logically ridiculous, and people like Ryan will call out or will fully explore that weird idea. That's still a bit my role, that wildcard sensibility."
However, despite his on-stage conviction, Read admits it wasn't until recently that he decided he wanted to do comedy seriously.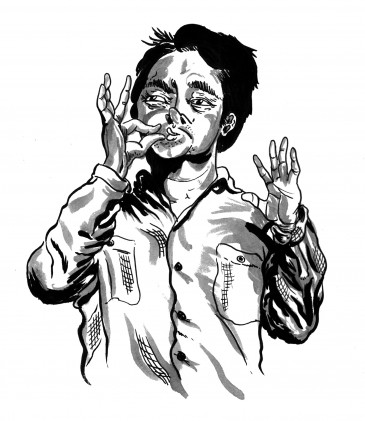 "I didn't fall out of love with it, but I wasn't sure of it or what I wanted to do with comedy or things like that," says Read. "So I went to art school for four years. And I still did The Sunday Service all the time, but I was kind of at a distance. I wasn't grinding or anything. And then I finished art school and did a music tour for about half a year. And when I was away from comedy, I realized what I was missing was comedy. So about two years ago, I started hitting it much heavier."
With The Sunday Service as popular as ever, soon to move their weekly Sunday show to the Fox Cabaret, Read has solidified his place in the creative world, as a regular improviser, as a part-time musician, and recently as a faculty member with Blind Tiger Comedy. While Read doesn't teach a regular class at the moment, he's been fundamental in the foundation of the comedy school and is keen to express Blind Tiger's comedic philosophy.
"We don't think there's a hierarchy of art over comedy. We think those things are equal, because I think improv at its best is about the humour. And you can talk about narrative and [making] 'art,' but we feel that comedy is our priority, but to do it in a smart way, not being stupid and sexist and boring."
As for Read, a bold man of instinct, life will continue to be about comedy and absurdity. For if there was ever a combination of Jim Carrey and Franz Kafka, it might just be Vancouver's Aaron Read.
Read performs regularly with The Sunday Service, every Sunday at the Fox Cabaret. For more information on his improv and sketch classes, visit blindtigercomedy.ca.