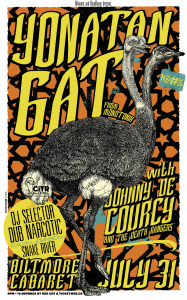 Next Thursday, Biltmore Cabaret presents four artists for the price of one! Tickets only cost $8, that's $2 per band!
Yonatan Gat is formerly a member of Monotonix and plays a heavily psychedelic style of solo guitar. Hailing from New York, Yonatan Gat's music is infused with Spanish, Portuguese, and Middle-Eastern grooves. He was voted by New York's Village Voice as "The Best Guitarist of 2013". Check out his debut album Iberian Passage!

Selector Dub Narcotic is the alias for Calvin Johnson, a DJ who truly embodies a diverse range of genres in his mixes. Selector Dub Narcotic's eclectic assortment of genres includes dancehall, soul, punk, garage, R&B, rock steady, bubblegum and rockabilly with various curiosities of the current underground music scene. Check out his Mixcloud for a taste!
New Westminister's Johnny de Courcy and The Death Rangers are pure garage and grunge rock. Penny Clark of Weird Canada puts it best when she says: "[Johnny's] words emphasize individuality and uncertainty, recalling the feeling of being a teenager playing rock star in front of the mirror while waiting for the moment of comeuppance." The self-titled album of Johnny De Courcy and the Death Rangers can be found in its entirety on Bandcamp!
Snake River began as a home for singer/multi-instrumentalist, Christopher Sleightholm (The Lonesome Weekends) to release his homespun psychedelic-leaning recordings. Take a look at this talented Saskatchewanite's right here.
With four awesome artists for an absolute bargain, you don't want to miss out on this show! For more information, check out the Facebook page.
Sponsored by CiTR and Discorder Magazine