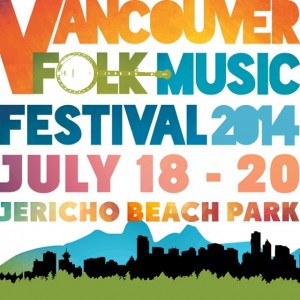 This weekend, embrace Vancouver's gorgeous summer weather to the soothing sounds of Folk music from all over the world. That's right, it is the 37th annual Vancouver Folk Music Festival, back once again at Jericho beach and bursting to the seams with great music more than ever before!
CiTR and Discorder will be at the festival, providing a live broadcast and making ourselves known with our merchandise booth. Be sure to pay us a visit for a chance to win free CDs, cool clothing, and much more! Tune in live from 8 a.m. to 2 p.m. with hosts Steve Edge, Linda Bull, Val Cormier, Chirag Mahajan and Wade Jordan as they interview artists and bring you special live performances.
Here is just a few of the featured acts playing at this year's Folk Fest: Joan Baez, Seun Kuti and Egypt 80, Mary Lambert, Amos Lee, Banda Kakana, Born Ruffians, and Brasstronaut. With such a culturally as well as musically diverse lineup of artists, the 2014 edition of Folk Fest promises to be an unforgettable experience.
For more information on ticket prices and the complete schedule of performing acts, please visit the Folk Festival's web page.