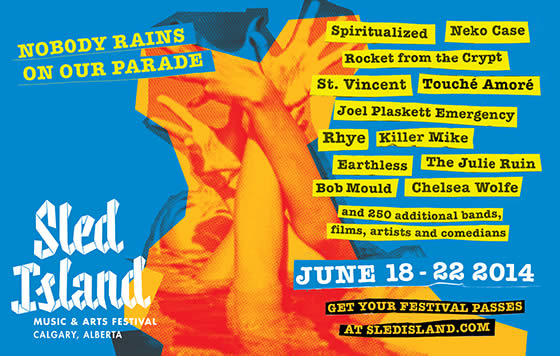 The Sled Island Music Festival is all about embracing community and exposing oneself to bold new music. The 2014 edition of Sled Island is no exception with a lineup filled with great music that is sure to float anyone's boat while bringing everyone together in Calgary's downtown! If you do plan on heading down to Calgary to see this incredible festival in action, CiTR can help you out with some suggestions. On June 19th, make your way to Dickens Pub and get your punk-rock on with these four awesome bands:
1) Advertisement – Possibly Alberta's only "Post-Punk" group, Advertisement will kick the night off in adrenaline-fueled fashion!
2) Adictox – Punk-rock with a Cuban flavour. Their lyrics may be foreign but their riffs will feel right at home.
3) The Shrine – Hailing from Los Angeles, this band takes inspiration from Black Sabbath. Brace yourself for some serious moshing!
4) White Lung – Last, but not least, Vancouver's very own return this year to close out the night!
Set Times: Advertisement at 9:30PM, Adictox at 10:30PM, The Shrine at 11:30PM, and White Lung at 12:30AM.
Check out the full schedule and ticket information for Sled Island Music Festival.
Presented by CiTR 101.9FM, Discorder Magazine, and Sled Island Music and Arts Festival.