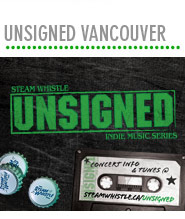 Steam Whistle hosts its first UNSIGNED show in Vancouver of 2014 in support of Canadian independent music artists.
On Thursday April 3rd 2014, Redbird, Rolla Olak, and JP Maurice will take the stage in Vancouver at the Biltmore Cabaret!
The Unsigned concert series started in Toronto five years ago, makings its way across Canada to Calgary, Edmonton, and Vancouver with the goal of giving back and helping the growth of the Canadian indie music community.
Doors open at 8pm and tickets are only $5!
The best part? 100% of ticket proceeds go straight back to the community through Music Heals.
Check out more Redbird, Rolla Olak, and JP Maurice and find out more about Steam Whistle Unsigned Vancouver here!
Sponsored by CiTR, 101.9FM!