On Saturday Oct 5th, Arts Reporter Jonathan Kew saw You Ain't Seen Nothin' Yet (Vouz n'avez encore rien vu). It screens again Oct 9th 3:45pm at the Vancouver Playhouse.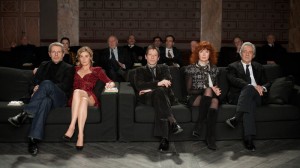 It might seem that Alain Resnais, now 91 years of age, might be positioning You Ain't Seen Nothin' Yet as his directorial curtain call, especially as it's a sustained investigation into memory, death, desire, and transience. But these themes are hardly departures from the groundbreaking films that made him a towering figure of the French New Wave. And Resnais is already in the process of making his next film. What you won't find here is a grand declaration from a proven master, but another piece of sustained experimentation that feels effortlessly confident: the film's title is a knowing wink.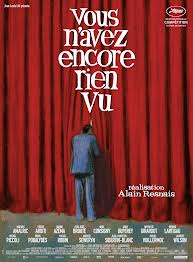 Playwright Antoine d'Anthac has died and his lawyer gathers his friends for the reading of his will. Each of these guests has played a role in Antoine d'Anthac's renditions of Jean Anouilh's play, Eurydice. (The film is itself based on Eurydice as well as Anouilh's Cher Antoine ou l'Amour rate.) The guests are treated to a film screening of the playwright's newest rendition of Eurydice. The effect on those in attendance is intense, both shared and deeply personal. Each guest re-enacts their past roles with the film while seamlessly interfacing with a dreamlike projection that comprises their experience of acting in the play. The film then proceeds in four interlocked layers: the audience watching Antoine d'Anthac's posthumously screened Eurydice; d'Anthac's Eurydice itself; and the psychic projections of two sets of actors who have played Eurydice and Orpheus generations apart, each reliving and re-enacting their experience of the play.
At best, the prior synopsis is a necessary evil. Resnais is ultimately uninterested in anything but the sheer effect of art and You Ain't Seen Nothin' Yet is far more elegant than my synopsis lets on. Resnais has stated his desire to emulate the convention of plays, where performances can be boldly unreal—larger than life—and where nobody bemoans the disruption of authenticity because a stagehand appears to place a prop on stage. Handily employing computer generated effects throughout, Resnais does the filmic equivalent, simply materializing props into existence when necessary.
The film's disinterest in elaborating its premise is a product of  its total commitment to relaying the emotions and meanings that resonate from a powerful work of art. This is most clear in the remarkable performances which ultimately make the film. That You Ain't Seen Nothin' Yet is so seamless between layers of representation gifts the film's venerable French film cast with a dexterous premise. One minute an actor could be acting something close to home: a seasoned veteran nostalgically but consciously reminiscing over the past.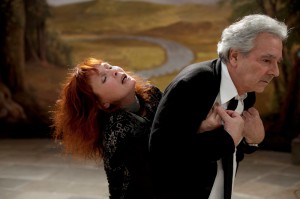 At another moment they might be totally consumed in a role from decades past, with utter conviction that they are lovestruck teenagers consumed by fate. While these actors who share roles generations apart begin to mirror one another, the unique subtleties of their performances evince a personal connection to the play as well. The film happily revels in the seeming paradox that a work of art's meaning and affect can be understood and felt as a wholly personal or wholly collective experience. As a film depicting an audience viewing a film reciprocating its wonder, there are few movies better suited for watching alongside a crowd of ardent and burgeoning cinephiles.