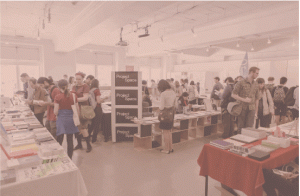 The Vancouver Art/Book Fair is back for its second year from October 5-6!
Presented by Project Space, this FREE two-day festival is the only international art book fair in Canada! Features will include local, national and international publishers of books, magazines, zines, and printed ephemera as well as digital and experimental forms of publications. The festival will also feature on-site programs, performances and installations.
Along with the Art/Book Fair, Project Space is also hosting the Artists' Books Weekend from October 3-6 throughout Vancouver! Parallel with the VA/BF, this free event will celebrate artists, curators, collectives and institutions across Vancouver that are working in this medium.
Head to Project Space for the opening Reception at 8PM on Friday, October 4th! Project Space is located at 222 E Georgia Street.
Saturday and Sunday's events will be held at the Vancouver Art Gallery Annex from 12 – 5 PM.
The Art/Book Fair will be launching with a reception at Project Space at 8pm on Friday, October 4. All other exhibitions will take place from 12pm to 5pm on October 5 and 6 at the Vancouver Art Gallery.
For more information, visit the Vancouver Art/Book Fair website, and check out the Facebook event page.
Sponsored by CiTR, 101.9 FM and Discorder Magazine!