Arts Reporter, and fill in host of More Than Human and Synaptic Sandwich, James shares his highlights from Friday, September 13th.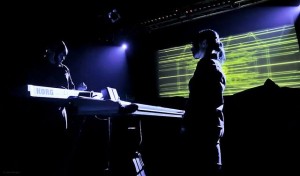 On the Friday night of New Forms '13 my faith was fully restored in my favourite Vancouver festival after Jeff Mills' surprisingly disappointing Star People opening.
At VIVO, Donald Buchla gave an awe inspiring and hilarious performance. The 76 year-old Buchla performed on one of his latest synthesizers and was joined by another musician on a prepared piano. The visuals, a series of images within images, seemed to imitate the strange and animalistic soundscapes. This was followed by a slide whistle orchestra. Oversized sunglasses were handed out by a toddler in large ear-muffs. Popcorn kernels snapping and jumping out of a frying pan fitted to a mic stand provided the perfect accompaniment. I am not making any of that up.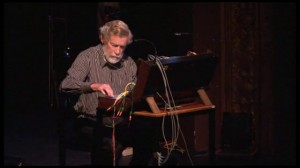 Later at the eatArt stage, The Passenger's pulsating, ever-consistent and half-improvised analogue synthscape built on a foundation of good vibes. Anthony Naples blew me away, laying down a highly satisfying and dance-floor-slaying house and techno set. Walking over to the Hangar to catch a glimpse of No Ufo's, I couldn't help but wonder if Konrad Jandev's intricate and refined sound was a little cerebral for what people seemed to be in the mood for. That said, the influential Vancouver-based sound artist doesn't pander to anyone and at least some of the crowd rose to the challenge. Dopplereffekt's Kraftwerk inspired, stripped-down show was perfectly on point.
Delroy Edwards' set was massive. It was a Pastiche of everything grimey, noisy and satisfying about contemporary underground dance music. It's no small wonder the South LA resident and L.I.E.S. protege is being hyped on every music blog this side of Techno City. The fest came to a close on a rainy east side beach on Sunday, with a good half of the show relocated to Open Studios due to the weather. Up and comers Neu Balance delivered a woozy, hypnotic, microhouse inspired set on a solar-powered soundsystem that apparently had been charged in the Nevada sun during this year's Burning Man.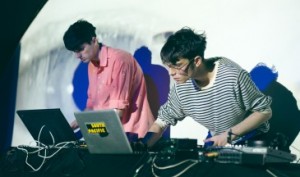 New Forms' best element is the atmosphere, rising from the environment, curation and response from one of the most dynamic audiences you can hope to find. It's like being taken aboard some craft traversing time and space to escape everything that is boring and overdone in this sleepy town.