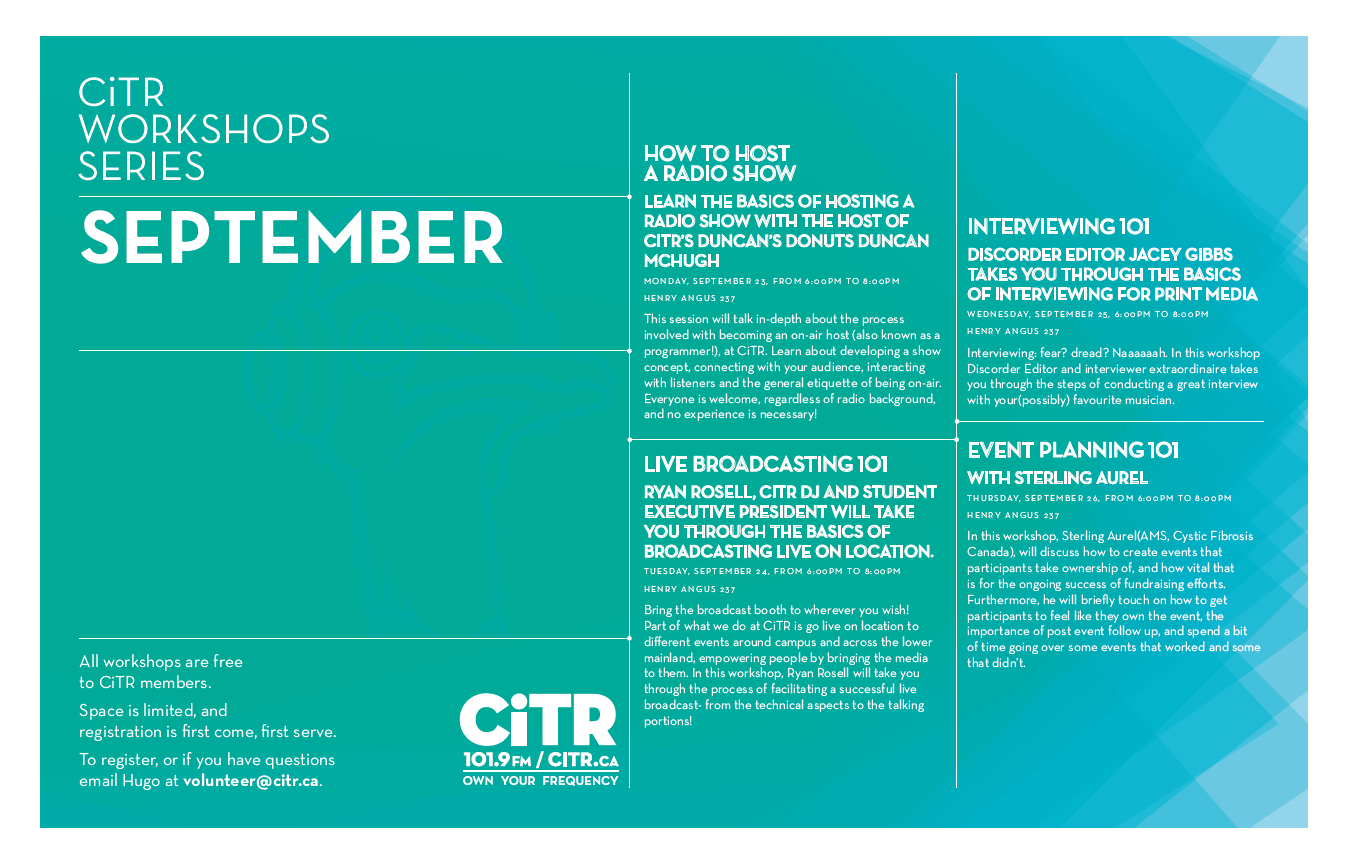 Running from Monday-Thursday next week, CiTR is proud to present our September Workshop Series!
How to Host a Radio Show:
Learn the basics of hosting a radio show with the host of CiTR's Duncan's Donuts Duncan Mchugh.
Monday September 23rd from 6:00pm to 8:00pm 
This session will talk in-depth about the process involved with becoming an on-air host (also known as a programmer!), at CiTR. Learn about developing a show concept, connecting with your audience, interacting with listeners and the general etiquette of being on-air.  Everyone is welcome, regardless of radio background, and no experience is necessary!

Ryan Rosell, CiTR DJ and Student Executive President will take you through the basics of broadcasting live on location.
Tuesday September 24th from 6:00pm to 8:00pm 
Henry Angus Room 237
Bring the broadcast booth to wherever you wish! Part of what we do at CiTR is go live on location to different events around campus and across the lower mainland, empowering people by bringing the media to them. In this workshop, Ryan Rosell will take you through the process of facilitating a successful live broadcast- from the technical aspects to the talking portions!
Interviewing 101:
Discorder Editor Jacey Gibbs takes you through the basics of interviewing for print media.
Wednesday September 25th from 6:00pm to 8:00pm 
Henry Angus Room 237
Interviewing: fear? dread? Naaaaaah. In this workshop Discorder Editor and interviewer extraordinaire takes you through the steps of conducting a great interview with your(possibly) favourite musician.
Event Planning 101:
Sterling Aurel of the AMS takes you through the process of planning a successful event 
Thursday September 26th from 6:00pm to 8:00pm 
In this workshop, Sterling Aurel(AMS, Cystic Fibrosis Canada), will discuss how to create events that participants take ownership of, and how vital that is for the ongoing success of fundraising efforts. Furthermore, he will briefly touch on how to get participants to feel like they own the 
event
, the importance of post 
event
 follow up, and spend a bit of time going over some events that worked and some that didn't.
All Workshops are free to CiTR members, space is limited and registration is first come first serve! To RSVP contact Hugo at volunteer@citr.ca