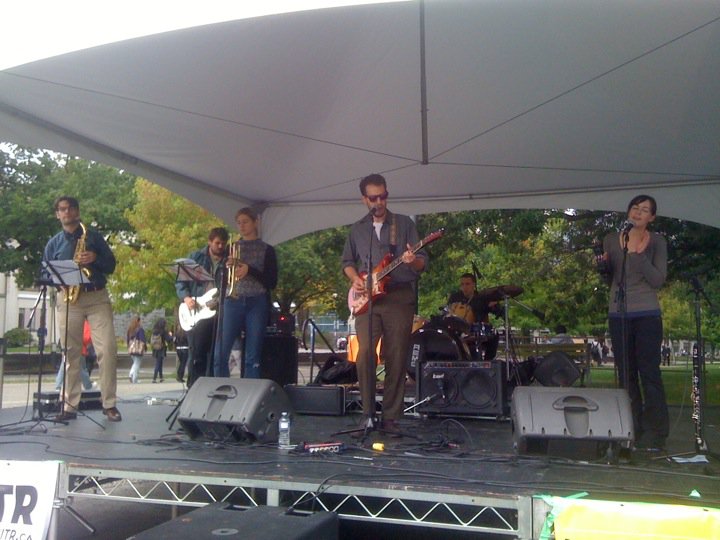 Live at Lunch is back! CiTR and the AMS are bringing you live, local tunes to compliment your yummy food.
We'll be there with our table, amazing staff and volunteers, and epic free CiTR swag, so make sure you come visit us!
A free concert and swag with a meal. How could you pass that up?
Exactly, you can't- so here's what you need to know so that you're all over this amazing event:
Where: West SUB Plaza
But if for some reason, you can't come see these bands perform, don't be sad. You can still hear it all! Just tune in to CiTR 101.9 FM
When: September 4-13
Time: 12-1pm each day (lunch time!)
Who: Dead Ghosts, Thee Ahs, Kristi Lane Sinclair, Jay Arner, Praying for Greater Portland, Lié, Sleuth, Hooves
Make sure you check out all the different bands' music before you come so you can rock out properly with all the words!
Full Schedule:
Wednesday, Sep 4: Dead Ghosts
Host: Jason Lloyd
DJ: Spencer Lindsay
Thursday, Sep 5: Thee Ahs
Friday, Sep 6: Kristi Lane Sinclair
Monday, Sep 9: Jay Arner
Tuesday, Sep 10: Praying For Greater Portland
Host and DJ: Oswaldo Perez
Wednesday, Sep 11: Lié
Thursday, Sep 12: Sleuth
Friday, Sep 13: Hooves
Host: Dorothy Neufeld
DJs: Radio Zero: Cam and Tyler