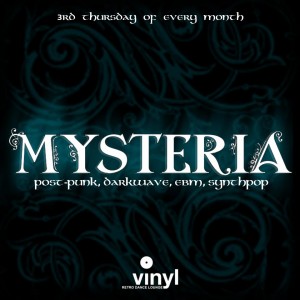 Join DJs Sparklebat, Caligari and Avaris for a night of post-punk, darkwave, EBM and synthpop.
Dress code:  Gothic, industrial, deathrock, cyber/synthare, victorian, fantasy-inspired, formalwear, pvc, latex, leather, medieval, retro-future, rococo, glam, renaissance, new romantic, post-apocalyptic, eveningwear, edwardian, retro 40's, cyberpunk, gothic lolita and aristocrat.
All black also acceptable.
With $4 Highballs and $8 cover at Vinyl/ Retro Lounge from 9pm-2am.
For more information, please check out the event's Facebook page.
Sponsored by CiTR 101.9FM