UBC Bike Raveeeeee! Friday March 15, at 7:30pm grab your bike and join the riders/ravers as they cycle around UBC's beautiful campus in the twilight, stopping along the route for impromptu dance parties in a celebration of the on-campus cycling culture.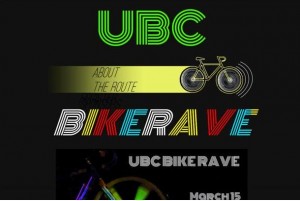 The two hour ride is broadcast live on CiTR with an in-studio DJ playing for participants on the road.  Bikes will be outfitted with radios tuned to 101.9 FM, with impromptu dance parties on the street blasting our frequency!  The UBC Bike Rave will be a night full of lights, bikes, music, and more so go out on your two-wheeled transportation decked out in glowsticks, lights, and crazy costumes!
Following the event, head to the PIT PUB for a BikeRave after party, where awesome prizes will be given out for the best costumes, brightest decorations, and most musical bikes.
Check out the website www.ubcbikerave.com for more information, to download the waiver form, and click attending for a chance to win a custom BikeRave t-shirt + more great prizes leading up to the event!