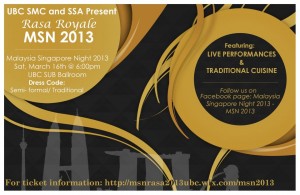 UBC'S Seri Malaysia Club and Singapore Student Association are proud to present their joint cultural banquet, Malaysia Singapore Night 2013: Rasa Royale.
'Rasa' is a Malay word meaning "taste" or "sensation". Be prepared to dive into an array of native Malaysian/Singaporean dishes and indulge in a whole new level of royale sensations.
Regardless of who you are or where you're from, join us in this night of celebrated culture, complete with original performances, live entertainment, and tantalizing ethnic cuisine that will guarantee you and your taste buds a royally good time!
Date: 16 March 2013 (Saturday)
Time: 6:00PM
Venue: UBC SUB Ballroom
Dress code: Semi-formal/Traditional
Tickets: $15 (student)/$20 (general)
Sponsored by CiTR 101.9FM. More info here.