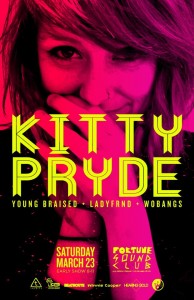 Saturday March 23rd Fortune Sound Club presents…
KITTY (Pryde), with guests YOUNG BRAISED, LADYFRND and  WOBANGS (TLC)
Early show: Doors 8pm / Curfew 10:30pm; all tickets include admission to "Sup? Fu" afterwards.
Kitty's music is rap projected through a lens as legitimate as any other – she speaks to and on behalf of young people about love, lust, angst and underage drinking- the people to whom music is often the most poignant. With her internet-enhanced accessibility comes a requisite vulnerability, a widely relatable feeling that's generally absent in rap music. An unforeseen breakout artist of 2012, Kitty's lo-fi, self-aware The Lizzy McGuire Experience was celebrated early on by the The New York Times, Rolling Stone, and The FADER, and critics debated the her earnest approach to rap and the direction of music in general. Her new release The Daisy Rage EP sees her honing her cadence while offering another peek into the conflicted self-conscience of a young woman.
Advance tickets here or in stores at Highlife, Zulu, DIPT, Red Cat & Beatstreet.
Sponsored by CiTR 101.9FM. More info here.