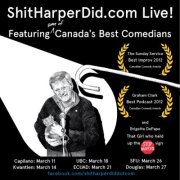 From the local comedians that launched ShitHarperDid.com comes a live comedy tour of universities and colleges in the Lower Mainland. The Sunday Service, named Canada's best improv group in 2012, will be visiting UBC at the Norm Theatre this Monday, March 18th.
The comedy show will be hosted by Graham Clark, winner of Canada's best podcast in 2012. The live performance will be followed by presentations by Brigette DePape, the senate page who held up a "Stop Harper" sign in the House of Commons, and comedian, Yes Lab activist and founder of ShitHarperDid.com, Sean Devlin.
Just before the 2011 federal election, Devlin and friends launched a viral website that garnered 4.1 million views in its first 72 hours. Accompanied by a series of funny videos, the group of Vancouver-based comedians succeeded in making Harper's most outrageous political offenses barroom conversation.
More info here. Sponsored by CiTR 101.9FM.