Happy American Fireworks Day! Happy Belated Canadian Fireworks Day!
Today we have some fireworks in the form of AMAZING content at 4pm, a weird time for this week only!
Tonight on the Arts Report, July 4th, 2012 we have a packed show that has two festivals, a film and a multi media event that ties into a second multimedia event. Whew.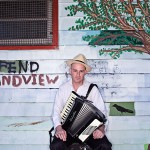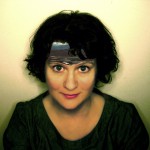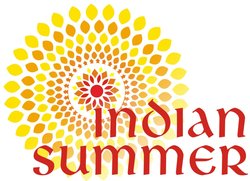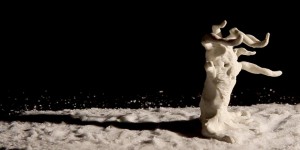 CiTR is a community partner of Vancouver Folk Festival, July 13-15 and we've got interviews with Geoff Berner, Klezmer Punk and Jewish music tradition revivalist, and Veda Hille who will be performing songs based on YOUR MEMORIES.
Indian Summer is just around the corner – tomorrow actually. This festival of art, dance, food and contemporary arts and ideas from South Asia runs from July 5-15th. More than a celebration of South Asian culture, it's about the contemporary and progressive ideas coming out of India and South Asia right now.
We also investigate Coast Modern, a beautiful and thought provoking film about modern Pacific Northwest Architecture – James Bates, new contributor, interviewed co-director Mike Bernard. It's on screen at VanCity Theatre July 6-12.
Last in this post, but at the top of the show, I'll review and talk to Cindy Mochizuki about mörkö: audio and animation performance. The audio from this project will be part of Spatial Poetics XI: Some Monster, curated by Vanessa Kwan (and featuring an amazing line up of multi-media peformances).
Read on for more info on this almost indescribable show including a Q&A with Cindy Mochizuki and Emma Hendrix.
"mörkö is an interdisciplinary performance integrating sound by Emma Hendrix and live animation by Cindy Mochizuki with direction by James Long. Based on a collection of interviews from Vancouver residents around 'monsters', the artistic team builds a landscape using only the audio recordings and objects found in a basement closet of Mochizuki's childhood home.
The sound and moving images shape a portrait of a city through the 'monstrous'- a space, creature or thing of fear that we often conjure in our everyday lives when faced with the unknown." – newmusic.org/events/morko/
Heather McDermid on Vancouver New Music co-presenting the event: "I was really pleased with how it turned out – I wasn't sure what to expect, since by Cindy's account it was a constantly evolving piece. I thought it was really engaging, and a great integration of multiple media – sound, theatre, performance, animation and sculpture. [Among other reasons] VNM chose to be involved in the project [because] it promised to be a really unique take on some unusual subject matter, crafted by some talented artists."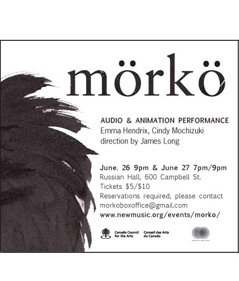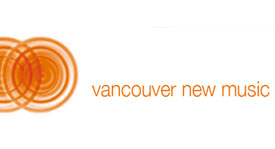 mörkö: Artistic Team: Audio + Animation – Emma Hendrix and Cindy Mochizuki, Direction – James Long, Lighting – James Proudfoot, Production Coordination – Asa Mori, Technical Direction – Elia Kirby
For full bios and individual projects, scroll to the end of this post or visit https://newmusic.org/events/morko/
The Arts Report sent these questions to mörkö artists Cindy Mochizuki and Emma Hendrix – for my review and more from Cindy, listen to the Arts Report July 4th, 2012.
1) My cursory googling reveals mörkö as the Finnish word for "boogeyman or bugabear" – this and the entrance into the main stage (guests walk through multiple staircases, arrive in a dark room and then move onto the stage behind the curtain) indicates you thought very much about the entire "headspace" of the piece. What preconceptions and attitudes were you trying to create or avoid with these framing strategies?
Cindy: Morko is the Finnish word for the Groke which is a character in Tove Jansson's Moomin children's book series. She is a bell-shaped monster that appears in her stories.  So the title was inspired by this creature and an earlier phase of this project did involve a Finnish collaboration.  But it didn't happen that way.
The entrance into the main stage definitely played with the feeling of dis-orientation – we chose a strange route (through the underside of the Russian Hall). It was a creative choice in order to set the mood and the tone of the piece leading up to mainstage where eventually everyone (audience and performer) would both land. I think it also prepares audiences for a different kind of attention, listening and engagement – that isn't a passive sit back, watch and be entertained.
2) At June 26th show part of the "city" you build during the piece collapsed – what is the role of instability of the piece? From my viewer's stance, I could see it as being inherent, unavoidable and/or intended?
Cindy: I should clarify, it was the infamous Hot Wheels track that didn't come together as I had planned. It can happen if I'm not strategic about the placement of things.
There is a sense of instability throughout the show, the precariousness of objects of the choo choo room being stacked to build a city; but also there seems to be the same kind of 'act of balancing' that is happening when you interview someone and in the case about their fears or their monsters. There is a fine line or a tipping point to which something can easily become fear or the unknown.
3) If your investment or connection or role in the piece was represented by one of the physical objects on the stage, which would it be and why?
Cindy: I think I have connection to several of the toys in the piece because they mark my childhood. When I move through the first sequence of picking up the little toys in the foggy room I actually had several moments where I can actually remember playing with the tiny dish scrubber or miniature apple. Most of these items originally came as the little surprises you get in the boxes of Glico caramels or the 25 cent machine at our local grocery store. It was definitely strange to be reacquainted with these objects once again in this way.
Emma: I think it would be the sand and the tree.  It's such a moment of subtlety that somehow becomes so big, it also set the tone for me in many ways because, since we were working with a sound source of only the interviews (and the occasional item from the room), the initial editing of the interview kind of set a mood for how I approached the rest of the sound work. As well, the text [projected during this time] kind of sets the tone for the sonic sculpture of the rest of the piece.
5) Is there an interviewee response that most succinctly or interestingly represents your understanding of the project? Or perhaps there is an interviewee response that was the most surprising or inspiring?
Cindy: As I started the interviewing process I found that the first round of interviews really had a range of 'monster' interpretations and discussions. I found it quite remarkable that these interviewees were quick to identify what their monsters were and or immediately had a visual image that came to mind that they could articulate quite clearly with words and the way they which they told their stories to me. Working in animation and in the visual medium, it quite quickly set the tone for me, that I could see these spaces and creatures they were remembering.
Emma: Although I didn't conduct most of the interviews, I was really amazed at the stories people had to share, and the way that they shared them.  The dynamics of people's communication and the honesty were two things that amazed me about all the interviews. There is one person who has since left the country and it felt really nice to hear her voice telling her monster stories.
6) Do you collect or store anything? Why that thing? Optional follow up: Which is your favourite episode of Hoarders and why?
Emma: I collect telephones… and telephone sounds.  I've actually gotten rid of , or used, most of the telephones I have had, but for some reason I've had an interest in using phones in artwork. So I've made several pieces based on telephone sounds, had a couple of installations using telephones,that kind of thing.  I only have about 6 or so phones left from all of that now though,so i guess i kind of fail as a hoarder…
I've only seen a couple of episodes of Hoarders… but wow… nutty.
—-
Cindy Mochizuki is an interdisciplinary artist who makes work that crosses several disciplines including installation, animation, drawing and performance. Her artistic practice often involves collaboration and is process-based, integrating interviews and archival materials.  She has exhibited and screened her work nationally and internationally and holds a MFA from SFU's Interdisciplinary Studies program at the School For Contemporary Arts.  Please visit www.cindymochizuki.com
Emma Hendrix is a sound designer and a media artist. His work is focused on creating environments through sound, investigating the delicate state of equilibrium we have with our sonic environment.  He has performed internationally as 1/2 of the duo Coin Gutter, and received international awards for the interactive installation don't, stop with Julie Gendron. Recent works include: The English premiere of Heiner Müller's Macbeth: Nach Shakespeare; Tanya Marquardt'sTransmission (nominated for a Jesse award for Outstanding Sound Design); the group performance Funhouse/Tradeshow in Fylkingen (Stockholm, Sweden); the interactive sound installationsNOISE/DENOISE at Centre A, and 39bpm at the Richmond Art Gallery. He has also recently been involved in remixes for IO Sound'sUnearthed From Airwaves, and CSAF Records' Not Me series (lss 2011).  Emma has recently completed i Don't Stop, an iPhone Application with Julie Gendron.  His work can be heard onhttps://emmahendrix.com, https://coingutter.ca orhttps://soundcloud.com/emmahendrix
James Long artistic directs Theatre Replacement with Maiko Bae Yamamoto. Theatre Replacement's work has been seen and received critical acclaim nationally and internationally including multiple cities across Canada as well as Germany, The Netherlands, Wales, England and the US. He has also taught workshops and classes to established artists across Canada and to students at The University of British Columbia, The University of Regina, Simon Fraser University, Studio 58 and Seattle's Cornish College of the Arts.  As a freelance actor he has had the pleasure of working with Rumble Productions, Neworld, urban ink, Leaky Heaven Circus, The Only Animal, Stan's Cafe, CBC radio and the Electric Company, among many others. He is a graduate of SFU.