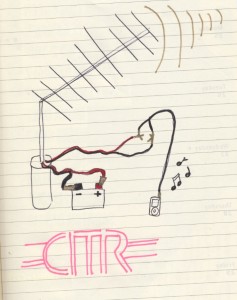 Do to SUB maintenance we have to pre-empt some of our programming today. They're cutting our power here at the SUB at 5pm, and unfortunately we have neither the required number of hamsters nor wheels to produce enough electricity on our own.
The silver lining is that you still get to hear the Arts Report an hour earlier then normal from 4-5pm. After that we're going to duct tape an Ipod to our transmitter and hope for the best!
We'll be back to normal at 8am tomorrow morning. See you on the other side!
(Artwork by Sarah Cordingley)