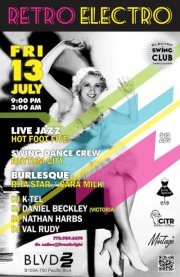 Be scandalous!
Join CiTR in an evening of spectacle and dance with Electro Swing Club Vancouver's Retro Electro night.
Hosted at BLVD 22, experience a night of lavish performances, including Sweet Soul Burlesque, live jazz by the "Hot Foot Five" and DJ sets throughout the evening! Be where new and old collide, with the best style of the 20's and 30's collide with Vancouver's most eclectic electronic music, feathers, fedoras, fringe and all!
Tickets are $15, $12 if you dress in Gatsby-esque glamour. Check https://www.facebook.com/events/363045400417537/ for details!
Sponsored by CiTR 101.9FM.