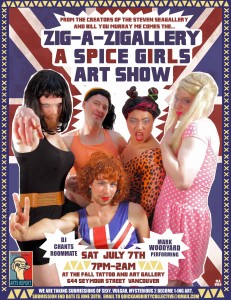 This Saturday, sponsored by the Arts Report, it's time for the  Zig a Zigallery, where the Spice Girls are cool again. Come to this FREE event  at the Fall Tattooing & Gallery, who sponsors Powerchord and So Salacious at CiTR!
Well, they may not be cool, but they'll be artistic, kitschy, terrifying, sparkly, talented, untalented and more. This "No Talent Required" art show is organized by Christina Chant and her band of rabble-rousers, and sponsored by the Arts Report!
Listen to Christina describe the show in the second half of our June 27th episode. (Which of course you have because you have subscribed on Feedburner or iTunes. Obviously.)
From 7pm to 2am, and in your best Spicy ensemble, celebrate the atrocious pop music of the '90s and the brain magic it inspires. GIRL POWER!