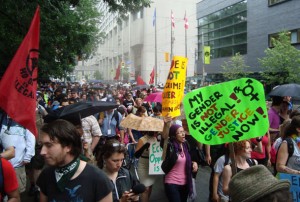 CiTR's News Department is committed to providing alternative coverage of events large and small. We worked to provide listeners with an alternative to the mainstream media's coverage of the Winter Olympics. We would love to be in Toronto reporting from on the ground, but we are delighted to bring you coverage from our friends at CKDU Halifax and the Alternative Media Centre.
Welcome to the fourth installation of the G20 report for June 24th 2010. The G20 Report is your daily rundown of news about the resistance to the G8 and G20, straight from the streets of Toronto produced by the Alternative Media Centre.
Wednesday marked the third day of themed resistance to abolish the G8 and G20. The theme was Climate and Environmental justice and featured a toxic tour of Toronto and a people assembly on climate justice. University of Toronto students also held an action outside the Munk conference reflecting concerns of the University of Toronto's relationship to the G20.
Featuring the music of the Raised Fist Collective.
Past podcasts and articles can be found on the G20 Alternative Media Centre's website. Also, thanks to CKDU Halifax for being part of this alternative G20 coverage and assisting with the production of the G20 podcasts.