The performances by legendary free jazz pianist, Cecil Taylor are a sight to marvel. At his prime he could strike each key with a level of power, intensity and speed that, in this writer's eyes, resembles a sort of physicality that I can only compare to the great jazz drummers Gene Krupa and Buddy Rich (if you haven't seen their epic drum battles, YouTube it ASAP). And while I am far from a piano expert (aside from a few key Journey melodies I can rip on the synth), the comparison is in tune with a philosophy that has been used to describe Taylor's pioneering style — the piano is really just 88 tuned bongos, with each key bearing the tune of a different drum. Taylor's percussive style paved the way to new ways of thinking about how to play the piano, breaking down tradition and essentially ushering in the era of experimental jazz.
In order for music to evolve, the unconventional needed space to flourish. Over 40 years ago, Vancouver's Western Front Society emerged as a space for the exploration and creation of new art forms. Today, it operates as an artist-run-center for contemporary art and new music. And, in a wink to the great Cecil Taylor, it is currently running a series titled, 88 Tuned Bongos — a performance series highlighting the latest innovations in experimental piano and keyboard projects.
I visited the Western Front on a cold and rainy Vancouver evening. Drenched from head to toe after a regrettable bike-ride, I stumbled upon a rehearsal between composer, Doug Blackley and pianist, Andrew Czink. I was immediately astounded by the whale-like noises emanating from what, at first glance, looked like a regular grand piano.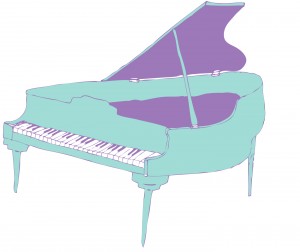 "Strange device, huh?" Blackley said to me with a wide grin on his face as he captained his instrument. "Literally stick your head over the strings."
I stuck my head into the belly of the piano, my ears wavering over the strings as Blackley's hands danced over the keys. A glowing, supernatural arrangement of notes flew across the room.
"It's electronic music without speakers," explained Czink, laughing.
Blackley was playing an instrument that he has labeled the 'spectral piano': a device that allows a traditional acoustic piano to play otherworldly sounds by 'bowing' the strings with electro-magnets. Blackley's ensemble, consisting of a Disklavier grand piano, multiple keyboards and a laptop, enable him to emit sounds once believed to be confined to synthesizers and pipe-organs from the strings of an acoustic grand piano.
"20 years ago I thought about how I could do this— but I never did it," said Blackley.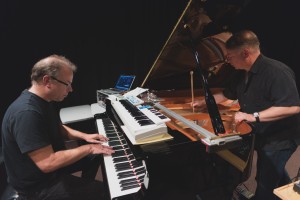 Blackley completed his Master's at Simon Fraser University, receiving funding to develop the unique instrument, and eventually showcase it in his Master's composition concert.
"I went back to my idea from 20 years before, of building this sort of stuff, and spent a couple years [thinking], 'dear god is this going to work' as I was throwing money at it to make it happen," Blackley said.
Blackley had recruited Czink to perform his composition onstage.
"He asked me if I would perform [for his Master's project] and I said sure of course," Czink said. "He talked about this technology he'd been working on, and I sort of understood what we would be doing. But the first time I came over to his place to rehearse, and he demonstrated it in his living room, I remember just standing there and these unearthly sounds came out of piano, things that I would expect to come out of the synthesizer, except there was this really organic sound— because it was a piano vibrating. And I remember I just walked up, stuck my head in the piano, and I looked up with the biggest stupid grin on my face. Doug reflected that back, because he understood that I got it. It was just an amazing moment."
On November 6th Blackley and Czink will take audiences on a journey through their innovative sounds and styles utilizing the spectral piano and a ROLI seaboard— a fretless keyboard with vibrato capabilities. The ROLI will amplify through the piano, thus cementing the performance unlike anything the crowd has ever seen. Utilizing these unique instruments, the duo will unravel their talents in a structurally improvised piece that is sure to both astound the audience, and maybe even leave a few of them scratching their heads.
But before they hit the stage, audiences will be treated to another unique performance:  a multimedia theatre piece by composer, Remy Siu and pianist, Vicky Chow.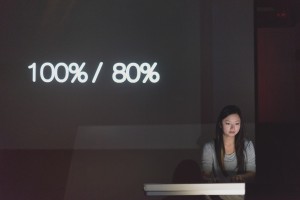 Siu, a composer trained at SFU Contemporary Arts, will be putting Chow's skills to the test, setting her on stage to complete numerous gestures on a midi-keyboard that will trigger both theatrical light projections and sounds from the Disklavier piano upstage.
Speaking with Siu, he explained, "From a moment to moment basis, Vicky won't know what she needs to do next." Siu continued, "And some of these gestures are going to be really difficult."
Chow will be confronted with a failure option, meaning that if she can't pull off a gesture, she'll have to do it again.
"One thing that I'm interested in the audience experiencing is that kind of failure, and that it's okay. Sometimes failure can be a bad thing, but I want it to be a part of the piece," said Siu. "It's a struggle, and Vicky is really up for the challenge."
And even though she's onboard, Chow still had some concerns.
"The biggest challenge is more psychological to me as a performer, because it's even more vulnerable to make these mistakes in front of an audience," said Chow. "Even though it's part of the piece, it's so ingrained in me, trained as a classical musician, that you're supposed to execute as perfectly as possible, even though that's unattainable. So it's probably going to make me very uncomfortable onstage. But the failure is part of the piece— I am trying to come to terms with that."
And while Chow might feel the most vulnerable, the rest of the series' performers will also be put to the test as they venture into the unknown. The 88 Tuned Bongo series won't just give these duos an opportunity to put their unique ideas on display, but also the chance explore the possibilities — and limitations — of their own artistic creations in front of a live audience this season, and next.
x
As part of the 88 Tuned Bongos Piano Series, Andrew Czink, Doug Blackley and Remy Siu are presenting the Composer's Clinic workshop November 1, although pre-registration is required. Under the Hood, with Vicky Chow & The Spectral Piano Project is November 6 at 8pm at Western Front. Advance tickets are $10/15, available at front.bc.ca. Production assistance by Paul Paroczai. Future 88 Tuned Bongos events will be announced for Winter 2016.