In the music video for lié's "Can't Get Enough," three shabbily-dressed punk rock bros are lying in separate beds, fully clothed, before rising in unison and ambling towards a smoke-filled lié show. Each band member singles out one of the men and lures them to the stage, completely enthralled and zombie-fied. A moment later, they're tied up in chains as the members of lié stand overhead, laughing mercilessly and even chucking a beer can at one of them.
It's a bizarre, almost surreal video and even the band isn't too sure what's going on, since the video's director, Katayoon Yousefbigloo, came up with its concept. But it's also a wickedly funny clip, thanks to its campy aesthetic and vintage VHS-camcorder quality. The band starts laughing when I bring it up.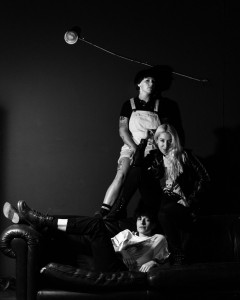 "We just wanted to do something that was a little more lighthearted, because a lot of our content and our past videos have been heavy material," explains Brittany West, one of lié's vocalist and bassist.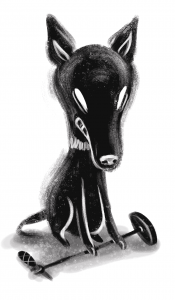 What it does have in common with the rest of lié's oeuvre is its exploration into power dynamics, which have long been a point of focus for this dark punk band. As they explained in an interview with Discorder in 2014, lié approach themes of power, violence and oppression not through preaching about what's good or bad, but by laying out fragments of grotesque situations for listeners to judge accordingly. The world they create is a cold one — threats are uttered, deception is lauded and violence is depicted — but there are no clear morals or narratives for a listener to fall back on.
"I like for people to be able to interpret things their own way and get what they need out of it," says West. For Ashlee Lúk, lié's co-vocalist and guitarist, this form of songwriting often involves taking the perspective of oppressors. "Writing from that perspective can sometimes be therapeutic. [It] can allow you to work through things from a different angle, and also to challenge the existing power structures from not such an obvious point of view," they say. "If [people] are [listening] from the viewpoint of the oppressor, [they can] see how ridiculous it is from that angle."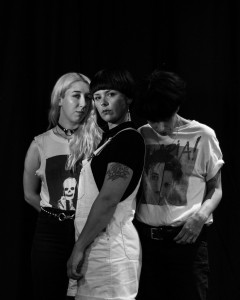 It's a technique lié employ throughout their new record, Hounds, which is co-released by Mint Records and Monofonus Press on July 7. Recorded in the sweltering heat of Austin, Texas, it's a blistering record that sees the band moving away from the jagged post-punk of their previous releases into a sound that's louder, faster and grimier. Highlights include the aforementioned "Can't Get Enough" and "Ethics," a 300-BPM romp that features some of their tightest musicianship and catchiest melodies yet.
After signing to Mint earlier this year, lié reissued their 2014 album, Consent, which dived deep into themes of violence and power. As its title would suggest, sexual assault is explicitly explored — on "Sorry," the band confronts an abuser and coldly echo his defences as guitars screech in the background. In lieu of cultural events such as #MeToo that have pushed sexual assault to the cultural forefront, Lúk says that they have been thinking back to Consent.
"At the time that album came out, it wasn't in the conversation," they say. "And now it's being addressed: people are being taken seriously, and as a community we're working towards trying to create safer environments. [But] that doesn't necessarily mean it's anything more than talk."
"And now we just talk about it, doesn't mean that much has changed," chimed in Kati J, lié's drummer.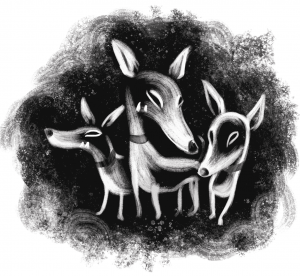 West expressed a similar frustration: "[Consent] is just a compilation of women's experiences and things that have always gone on, and it's frustrating that it takes this long [for others to listen]."
In the years since Consent, lié released another album, Truth and Consequences (2016), and toured "pretty much every 'Ask A Punk' venue across North America," as their press release puts it. The band loves touring, despite its discomforts.
"You don't get much sleep, you're crammed in a car and you're eating shit and you're drinking every night and you're sleeping on floors and you get sick," West says. "But it's great because you're working in community with these amazing, talented people and everyone's very hospitable. You're seeing what's going on in every city and you get to experience a city in a different way, where you're connecting right at the roots immediately."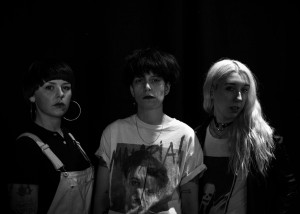 Swimming also takes up a chunk of lié's schedule. They try to sneak in a swim every day on tour, and they capped off the recording sessions for Hounds in a nearby Austin river, where the water was brown and bathwater hot. "There are tires floating by, everyone's catfishing in their clothes, drinking beer [and] there are bugs everywhere," explains West. "It was an authentic Texan experience."
Six years and four albums since the band formed in 2012, the creative spirit that drives lié's seething punk snowstorms shows no signs of slowing down: this summer, they're planning to embark on an East Coast tour, film another music video and write another record.
"Get the arms nice and buff, Kati, 'cause we're going two times faster," says West.
X
lié is playing an album release party in Vancouver with Body Break, minimalviolence and J.S. Aurelius on July 7 at 333. Hounds is available for stream and purchase at lievancouver.bandcamp.com.