Francis Arevalo has been busy this past year. As the de facto founder of The Lions We Are, a Vancouver-based arts and music collective, he has been making music under his own name and collaborating with local artists who he is lucky to call friends. In his art and writing, Arevalo talks openly about living with bipolar disorder and his recovery process over the past year. Today, he defines himself by his decision to live intentionally and to make music that communicates a message of love. Discorder Magazine talked to Francis about TLWA, his creative process and what it has been like to heal out loud and through music.
Discorder Magazine: You are the founder of The Lions We Are. How do you define your role within the collective?
Francis Arevalo: In a sense, it doesn't feel like I'm the founder of The Lions We Are. It honestly just feels like I named and acknowledged something that's been here the whole time, these talented and generous friendships.
My role so far within the collective has been to facilitate others' creativity and passions by organizing events, and encourage people to follow their passions, develop their craft, and collaborate with others.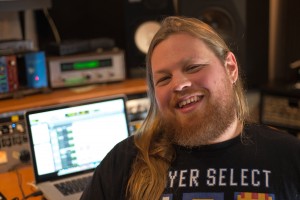 DM: How do you define yourself as a musician?
FA: I used to have a stage name, Allo. It was short-lived however as I realized I wanted my music and messages [to] represent me honestly as a person. There is no separation between my life and what I make.
In my lyrics, there is love at the core: for self, for others, for life, and for my craft. In my performances, I want to welcome, move, and uplift people.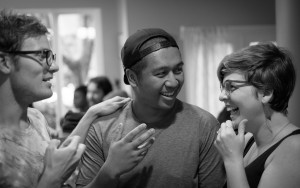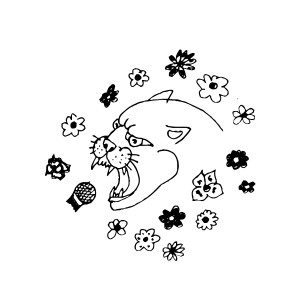 DM: Your Facebook page describes The Lions We Are as "A diverse, cross-disciplinary artist collective, aimed to create visible and interactive art for the city of Vancouver." How does TLWA function? What is your intention behind creating visible art?
FA: Within TLWA, there are so many talents and skills at work: instrumentation, singing, rapping, producing, photography, videography, graphic design, painting, dancing, cooking, and more. For any one event or project, we assemble the know-how as needed. Our intention behind making and sharing art and music is to make the world we live in a beautiful place, and hopefully inspire others to do the same.
The Lions We Are is rooted in a sense of family. We aim to spread positivity through art, to hold a non-judgmental space for creative expression, to engage our communities, and to seek fulfillment through group and individual passion projects.
DM: Why did you name the collective The Lions We Are?
FA: The Lion King has always been my favourite movie. This narrative of a young person going through trials and tribulations, finding friends along the way, and coming back home to play their role in their community always resonated with me.
To be lionhearted is to be brave or heroic. I believe there's a certain kind of bravery and audacity in each person becoming the person – the hero – that they need.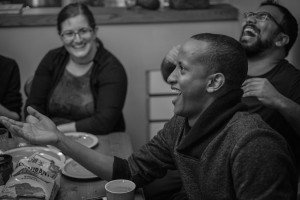 DM: How does The Love & Basketball Mixtape compare to The TLWA Mixtape?
FA: [They] are very different. Love & Basketball is a seven track project that I recorded in seven hours in one day, and TLWA is eighteen tracks that I worked on over the course of six months! The tracks on L&B are held together by the title themes, but for the most part are a collection of singles. TLWA has a narrative arc through it. TLWA is the sound of a community coming together to make something beautiful. For me, it's the sound getting back on my feet after getting sick. TLWA is my way of thanking everyone who helped along the way.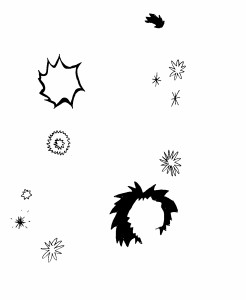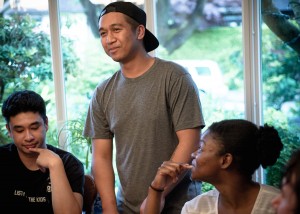 DM: What other projects do you have on the go? You have mentioned 'A Night with Friends' arts get-togethers, 'Arts & Crafts' sessions with Roya Bennett, and the TLWA blog you write with Irving Chong.
FA: I'm tending to a couple of EPs right now, but for the most part I'm trying to spend my time helping out on other people's projects where I can.
'A Night with Friends' started as an annual summer-time jam session back in 2011, a night that our friends could look forward to every year to share in each other's talents. Recently, it's become an informal monthly hangout to share time, space, food, and good vibes, and make art and music together. 'Arts & Crafts' is what Roya and I call the time we set aside to create duo pieces. The blog [is] a way for Irving and I to highlight our friends' work, archive events, and explore conversations sparked by the art we made and shared in.
At the core of The Lions We Are [and other projects] is making good things with good people.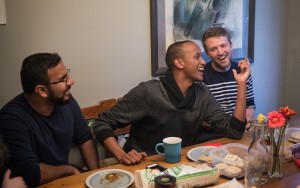 DM: In your blog post "On Time and In Rhythm" you write, "Now I don't know what else to do but heal out loud and in the open." How does it feel to talk openly about bipolar and your experience with mental illness? How has healing out loud helped your healing process?
FA: I'm very lucky that for the most part people inside and outside of my community have been receptive to my publicly sharing my experience with bipolar disorder. There have been some people in my life that have distanced themselves from me, and I've come to accept them leaving.
Healing out loud through conversation, interview, and song has helped me come to terms with my reality. Bipolar disorder isn't something that goes away, but is something that I can get better at managing. And I'm happy that sharing my story has helped some folks in their own personal struggles with mental illness. As much as I didn't believe it when I was in the depths of the depression, there is light at the end of the tunnel, and I had to trust I'd get there if I kept walking every day.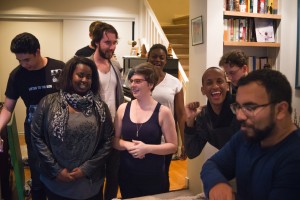 DM: What were you doing with music prior to getting sick? How are your goals then different and similar to your goals now?
FA: Prior to getting sick, music was simply this thing that I did for fun with my friends, and I didn't actively consider the role it could play in my life, career or community. After getting sick and spending that time reflecting, my efforts have definitely become more focused. I've realized the deeper intentions and impacts that making music can have for myself and others. It's how I best make sense of my world and connect to others around me.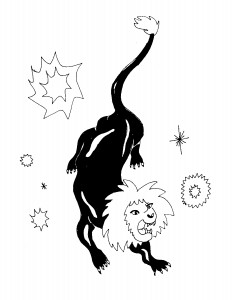 DM: You said in "On Time and In Rhythm" that the experience of getting sick and working through the recovery process has given you intention and agency. How does this agency come into play in your creative outlets?
FA: During that year of depression, I felt what it was like to have no impact on the world around me. As I begun to tell my story, reconnect with people, and write music again, I remembered the effects that art could have on my own well-being as well as my community.
I was reminded so deeply through the experience of getting sick and recovering how important my loved ones are to me. If making and sharing my music can bridge gaps between people the way that it did for my loved ones and me, I feel like I have to encourage it.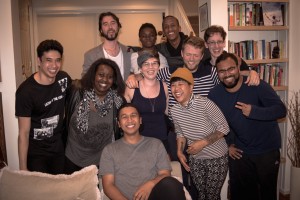 DM: What are your goals for TLWA?
FA: My main intention for The Lions We Are is to commit to spending meaningful time with meaningful people making meaningful art. As long as we can continue to do that, that feels like success. And I'm excited for wherever and whatever the path leads to. I hope that over time people feel empowered by TLWA the way that I did.
x
The Lions We Are will play a show at the Red Room on July 22. Listen to The TLWA Mixtape and The Love & Basketball Mixtape on Soundcloud. Watch Jon Chiang's documentary about Arevalo's recovery through music.